Carlo Ancelotti ready to offload two Stamford Bridge bit part players.
Watch Blackpool v Chelsea live streaming with GetSport.TV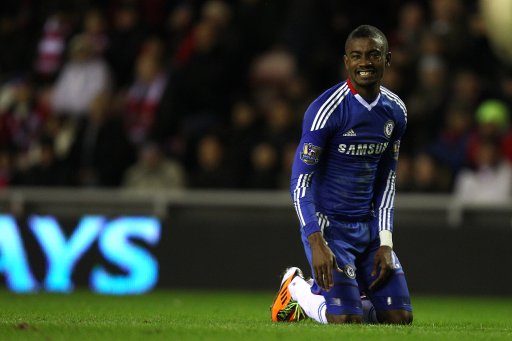 Chelsea will sell Salamon Kalou and Jose Bosingwa in the summer as part of their squad overhaul, according to various press reports.
The pair have disappointed during their time at Stamford Bridge with neither able to find any consistency in their game. Kalou – an £8m arrival from Feyenoord in 2006 – has become one of the most divisive figures amongst the Stamfrod Bridge faithful with his continually frustrating performances. Capable of showing quick feet and no shortage of skill it is often the final pass or shot that lets him down encouraging a wealth of groans from the stands.
Bosingwa has been largely been a victim of circumstance. He was Luiz Felipe Scolari's major signing when he arrives, bringing him in from FC Porto for almost £17m , and while he enjoyed initial success under the Brazilian the general team malaise that set in consumed him as well. The Portugal international was unable to take a full part in last season's historic double-winning campaign after missing the majority of the season through injury and he has failed to recapture his old verve since returning to fitness.
With Kalou and Bosingwa linked to Galatasaray and Juventus resepctively, manager Ancelotti will hope to free up squad places for more big money arrivals, assuming he's still in the hotseat that is.
SOURCE: Sportingo
It seems that plans are afoot at Stamford Bridge and that Carlo Ancelotti is looking to freshen things up at the faltering West London club who has sunk from Premier League winners to a side who may struggle to claim a top four spot and the Blues manager is keen to rid the club of some deadwood.
Salomon Kalou is the type of player that can infuriate supporters, on the one hand he can be a very effective attacking weapon but then just as easily disappear from view and flatter to deceive, a player who appears to work far better coming off the bench in cameo roles than he does when he starts and this summer he could well leave the club some five years after his arrival.
Jose Bosingwa's time at the club was somewhat held back by injury that saw his spot taken by Branislav Ivanovic who is a far more balanced full back who is a more consistent performer and seemingly a player that Ancelotti prefers to the Portuguese international.
There is also some speculation that the likes of Florent Malouda, Yuri Zhirkov and even Didier Drogba may be off loaded as Chelsea make plans to add further big name signings this summer to follow on from the signings of David Luiz and Fernando Torres in January.