Kenny Dalglish leads his Anfield side to well deserved win over Old Trafford visitors.
Premier League Tickets Available from Tixdaq.com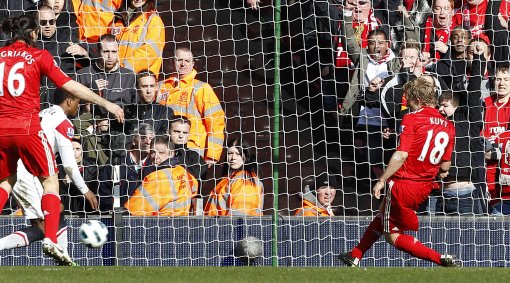 Liverpool gave Kenny Dalglish the perfect 60th birthday present as Manchester United' faltering performance leaves Sir Alex Ferguson with a lot of questions to answer as the table topping side suffered their third Premier League defeat in five matches.
Without Nemanja Vidic and Rio Ferdinand it was always going to be tough for the travelling Old Trafford side to hold firm and the Anfield side's formation with two men up top caused Chris Smalling and Wes Brown all sorts of problems, but it could all have been so different has Dimitar Berbatov's long range effort nested in the back of the net and not rebounded wide off the woodwork.
Since that point the home side took control of proceedings and Luis Suarez's strong running and intelligent movement really undid a Man United back four that was all at sea. The Uruguayan international twisted and turned in the box on a mazy run that left Dirk Kuyt with a tap in and the rout had begun.
Five minutes later confusion reigned supreme when Nani elected to head the ball back into the danger area instead of out of danger and Dirk Kuyt tapped in for his and Liverpool's second and within five minutes the Portuguese international's day was about to turn even sour.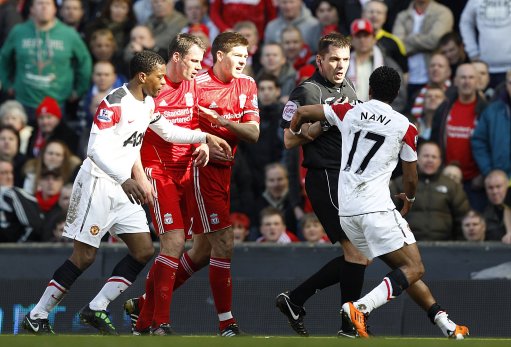 Nani was taken out by a very poor challenge from Jamie Carragher that resulted in the Manchester United winger being stretchered off and a minute later Rafael launched in on Lucas and another melee ensued that left referee Phil Dowd booking four players before blowing the half-time whistle.
The second half began with Man United attempting to exert pressure on their hosts but a front three of Dimitar Berbatov, Wayne Rooney and Javier Hernandez failed to make an impact as a lack of service from the midfield restricted to passing the ball around the box.
A Luis Suarez free-kick wasn't held by Edwin van der Sar and Dirk Kuyt picked up the pieces and slammed in his hat-trick to seal the points before Andy Carroll emerged for a cameo debut. Javier Hernandez scored in injury time but that didn't take the gloss off a fine Liverpool win that gives hope to Arsenal, Manchester City and perhaps even Chelsea as Sir Alex Ferguson's iron grip on the Premier League title continues to loosen.
Liverpool
Pepe Reina 6 (Had very little to do)
Glenn Johnson 7 (Came into the game more when switched to left back)
Fabio Aurelio 6 (Taken off early)
(Sotirios Kyrgiakos 24) 7.5 (Solid and committed)
Jamie Carragher 7.5 (Wholehearted but perhaps lucky to not be sent off)
Martin Skrtel 7.5 (Kept opposition at bay with strong display)
Raul Meireles 8 (Always had time on the ball, proving to be a great buy)
(Andy Carroll 74) 6.5 (Only on for 15 minutes but had some good touches)
Steven Gerrard 7.5 (Tidy but not spectacular)
Maxi 7 (Calm, composed performance)
Lucas 7.5 (Marshalled midfield well)
Luis Suarez 9 (Man of the match, always a threat, deserved a goal)
(Joe Cole 89) (Not on long enough to earn rating)
Dirk Kuyt 8.5 (In the right place at the right time on three occasions)
Man Utd
Edwin Van der Sar 6 (Couldn't do much about the goals, did little other than pick ball from back of the net)
Patrice Evra 6.5 (Tried to make things happen but was often out of position)
Wes Brown 5 (Off the pace and a very poor display)
Chris Smalling 5.5 (Marginally better than Brown, but only just)
Rafael 6.5 (Always has his heart in it but failed to make an impact)
(John O'Shea 76) 6 (Barely touched the ball)
Ryan Giggs 6.5 (Some nice touches but little in the way of end product)
Michael Carrick 5 (Hugely disappointing, sideways passing even when 3-0 down)
Nani 5.5 (Crazy header to set up Kuyt and then taken off injured)
(Javier Hernandez 45+6) 7.5 (Best Man United player, kept trying till the death and rewarded with goal)
Paul Scholes 6 (Sedate performance, a couple of raking 30 yard passes but little no penetration)
(Darren Fletcher 83) (No on long enough to earn rating)
Dimitar Berbatov 6.5 (Hit the post but was far too often coming too deep to get the ball)
Wayne Rooney 6.5 (A pretty limp display overall)