The internet is brilliant for meeting people and making friends, unfortunately I very much expect to do the opposite with this blog but here goes nothing…
Premier League Tickets Available from Tixdaq.com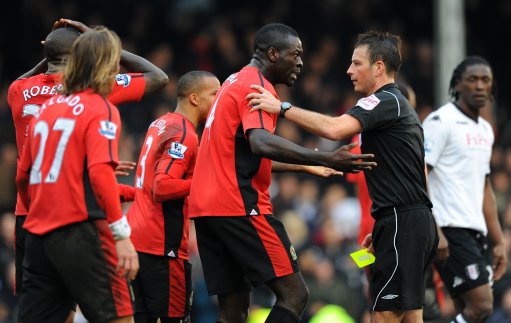 Mark Clattenburg was right to award Fulham a penalty against Blackburn Rovers this weekend. Phew, that feels much better to have said it out loud. Please allow me to explain why.
Perhaps not to the same extent as Charlie Sheen, but Mark Clattenburg has had a tough week. It seems so long ago now but last week Mark Clattenburg was criticised for not sending off Wayne Rooney after he deliberately elbowed James McCarthey in the seventh minute of Wigan vs Manchester United. Uproar was soon to follow as the FA announced they would not be investigating the situation any further. The reason that Wayne Rooney escaped any punishment is because Mark Clattenburg had dealt with the situation and due to one of the FA's many stuffy laws, once an incident has been dealt with there will be no further investigations. This whole situation has left Clattenburg so frustrated and feeling so powerless, which is why he is sadly questioning whether he wants to continue as a top flight referee. Wayne Rooney could have been in trouble with the FA were it not simply for the honesty and integrity of Clattenburg. Last Monday morning, the FA's disciplinary department emailed Clattenburg the standard incident form. Here the procedural problems preventing justice were exposed again.
Any form Mark was sent would have contained two questions, the first part would say 'Did you see the incident, the coming together of players?' Mark couldn't lie. He'd not seen the elbow but he'd seen a coming together, because he awarded a free kick. On these emails, there's an attachment saying that if you haven't seen the incident, go to the second part. That has a video clip and you have to re-referee the clip. But Mark was powerless. He'd been honest and said he'd seen the incident. Having seen the incident again on TV, he knew it was a red card by Rooney but he couldn't do anything." Mark Clattenburg did everything right in the moment of the coming together by seeking evidence quickly from Wayne "I didn't do nuffin' mate" Rooney and James McCarthey who to his credit simply said "I don't know what's gone on." One of Clattenburg's colleagues then informed him via his headset that 'it was just a coming together'. After not seeing the off the ball incident, all of the evidence suggested just a free-kick should be awarded with no further action required. Mark Clattenburg could do no more. He is the one being punished when he has not done anything wrong, but his honesty is to be admired as he told the FA he had seen the incident and had dealt with it. It is a shame that Wayne Rooney seems to be avoiding any blame whilst being completely dishonest. That's the modern footballer unfortunately.
That brings us to this weekend. Mark Clattenburg awarded a penalty in the last minute of Fulham v Blackburn and was right to award it, but is still under scrutiny long after the match had finished. Blackburn's Grant Hanley had wrestled Aaron Hughes out of the way as the cross came in and it was Hanley who cleared it. Clattenburg had a great view of the incident and had no other choice but to award the penalty to Fulham. What's interesting to note is that Grant Hanley did not protest the decision, instead leaving that to Samba who perhaps felt it was he who was judged to have committed the foul after a nothing push on Zamora. It was great to see Bobby Zamora back after a six month lay-off with a broken leg and score the winner – it is a shame the tabloids couldn't have made that their headline. As soon as Mark Clattenburg had blown for full time, Blackburn's Gäel Givet ran on to the pitch without his boots on – he must've known he wouldn't need them for a while as he was promptly sent off for his aggressive protest.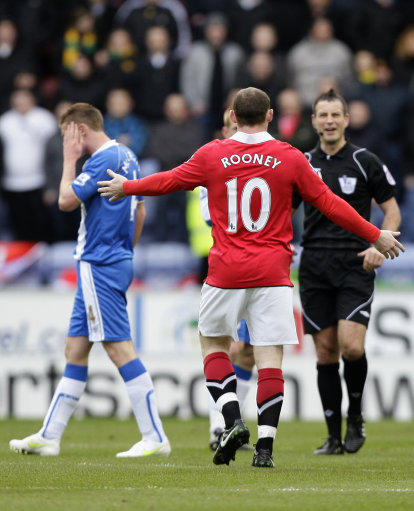 Once again, Hanley looked on as others protested his innocence and I respect him for accepting he was in the wrong. Jason Roberts did his best to calm the Blackburn players and deserves a mention as he has always been such a gentleman of the game and knew the referee had got it spot-on. After the match Blackburn's manager Steve Kean, said: "He felt there was enough there to give a penalty but I felt it was not as aggressive or powerful because Aaron Hughes never went to ground. "I respect his decision, it is technically a penalty but there were 10 of them in that game. If you give one, you have to give the rest." These sentiments were echoed by the pretentious Alan Shearer on Match of the Day, who said "If you're gonna give a penalty for that you're gonna have 7 or 8 a game". Wrong. I continued to watch MOTD and made a note of the corners shown throughout all the matches, including the ones that lead to Gary Cahill's brace and Scharner's header from what looked like an impossible angle.
There were 9 corners shown overall on MOTD and in none of the other examples were there any situations where a referee should have awarded a penalty, let alone 7 or 8. The reason being that when the ball is dead for a corner there will be the inevitable pushing and pulling, but when the ball comes into play that all stops for fear of committing a foul. Unfortunately for Blackburn, Hanley continued to wrestle Hughes once the corner had been taken, giving Mark Clattenburg no other option but to award a penalty.
It annoys me that the best referee this country has to offer is under constant scrutiny for every decision, right or wrong. Gary Lineker chipped in with one of his pathetic, patronising comments on MOTD when he said "and he gave a yellow card but it was nothing like an elbow". Mark Clattenburg probably makes in a year what a lot of the top Premiership players earn in a week yet continues to have his life intruded and criticised for getting decisions right. He is a big football fan and it would be such an injustice if this man were to be forced out of the game that he loves so much.
Read more from Poco T by CLICKING HERE