Expert mind games in operation.
Watch Barcelona v Arsenal live streaming with GetSport.TV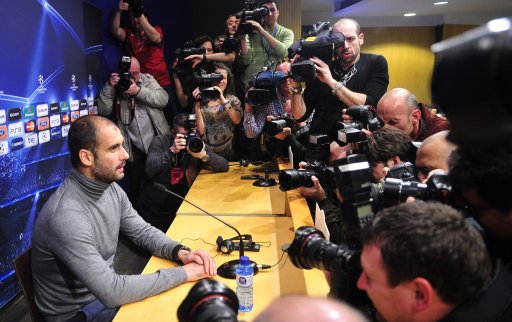 It seems that Sir Alex Ferguson may have an heir apparent to his mind games crown as Nou Camp manager Pep Guardiola expertly insults both Arsenal Football Club and top notch youngster Jack Wilshere all in one breath.
"Wilshere is a top player, he has been a big surprise," said Guardiola.
"I didn't know him at the beginning of the season but I have seen him in many, many games now.
"He is lucky because we have many players like him in the second team with us but it is simple to play with Arsenal because they have time and have no pressure to win titles as quick as possible."
So let's analyse what Mr. Guardiola has done here. He starts with a back handed compliment, implying that had Jack Wilshere walked past him on the street before this season he would not have known who the hell he was and he then doubles up that statement by stating that at Barcelona he has an entire second team who is just like the England international.
So he is effectively saying that one of Arsenal's big stars in the making would be little more than a reserve team player if he was plying his trade at the Emirates. Then the boss of the Catalan giants delivers another meaty insult by stating that the reason that Wilshere is playing in the Emirates first team is that the Gunners side need not worry about winning trophies as this is apparently something the North London club cares little for.
He is saying that the lack of pressure to deliver success, a slap in the face to Mr. Wenger, is essentially the reason why teenager Wilshere is even a first team player at the Gunners.
I have to admit this is a pretty clever way to attempt to deliver a mind game hammer blow to the opposition and for all I know he followed up this statement by stating that Cesc Fabregas is "weeks away from becoming an Arsenal player" and perhaps a neat back handed compliment where he states that "Robin Van Persie's injuries have made Arsenal's physio departments one of the hardest working in Europe".