Let battle commence.
Watch Barcelona v Arsenal live streaming with GetSport.TV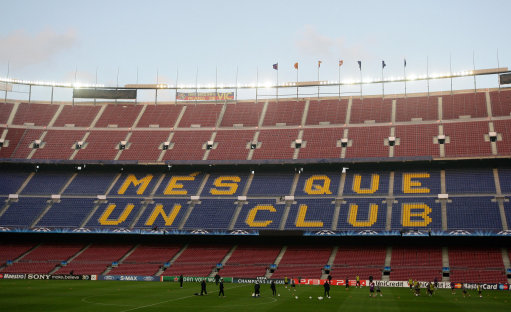 Arsenal maybe missing Theo Walcott, have huge doubts over the fitness of Robin van Persie and have Cesc Fabregas not fully fit, but Arsene Wenger's biggest concern should be regarding the absence of Alex Song.
The Cameroon midfielder is not as effective as Michael Essien or Darren Fletcher, but he would have provided some much-needed muscle for the Gunners in the centre of the pitch.
Wenger should still have Wilshere and Fabregas to combat with Xavi and Andres Iniesta but given this is youthful Wilshere's biggest test in an Arsenal shirt and doubts remain over Fabregas' fitness, it could be like Ricky Hatton trading punches with David Haye – both have the skills but the heavyweight will outlast his more weaker opponent.
That's where the influence of Song could have been vital. He could have done the 'dirty-work' for his side and give Wilshere and Fabregas the chance to flourish. However, with the more attacking-inclined Abou Diaby or the demonstrative Denilson in line to replace Song, Arsenal's midfield three, whoever that may be, will need to err on the side of caution if they are not to be blown away early on.
Hopefully lesson's have been learnt from their 4-1 defeat in Spain last season. Despite Wenger's injury problems tonight, he was further decimated by casualties last April. He was forced to go with a midfield of Denilson, Abou Diaby and Samir Nasri, the latter who should start further forward this evening.
Despite taking the lead, that central trio – and Arsenal's back four – got blown away for the remainder of the match by Lionel Messi, but like last year, 'Barca' have problems of their own in defence and in the early stages of last year's encounter, Arsenal showed potential in the early stages where they could get some joy tonight.
The Catalan club are missing Gerard Pique through suspension and there are question marks over the fitness of Carles Puyol, who, like Van Persie, was ruled out a few days ago but trained with his side yesterday.
If Puyol misses out, it's expected that Eric Abidal – who normally operates as a left-back but can play in the centre – and tempestuous defensive midfielder Sergio Busquets will act as replacements.
This is Arsenal's window of opportunity. They can't let the match becoming a free-for-all of pretty football but if they can exploit Abidal and Busquets by going direct with the pace of Van Persie (not as fast as Walcott but fast enough) or the physical presence of Nicklas Bendtner, then they should have their chances for the goals that will inevitably be required.
The question will be can they take them? Failing to net against Sunderland at the weekend is not the ideal confidence booster ahead of heading to Barcelona but it represents the perfect situation to put things right, and further more, send Manchester United a message that they will be there to capitalise if United dare to lose again.