Important selection news ahead of big Nou Camp clash.
Watch Barcelona v Arsenal live streaming with GetSport.TV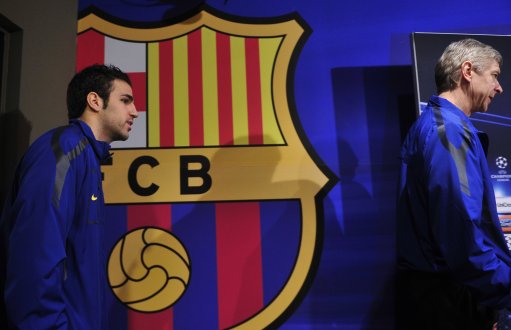 Robin van Persie has travelled with Arsenal's squad for Tuesday's Champions League last-16 tie at Barcelona, while Cesc Fabregas is likely to be fit.
Fellow midfielder Jack Wilshere has been passed fit but Alex Song (knee) is out along with Theo Walcott (ankle).
Barcelona will field a makeshift central defensive pairing with captain Carles Puyol ruled out with a knee problem and Gerard Pique suspended.
Eric Abidal is set to be paired with defensive midfielder Sergio Busquets.
Abidal, normally a full-back, played only 19 minutes of Barca's 1-0 victory over Real Zaragoza on Saturday, when striker David Villa (29 minutes) and midfielder Andres Iniesta (nine) were also used sparingly and other players were rested.
The challenge will be to find the right balance between having a team who can defend, as well as one that has a good opportunity, every time it has the ball, to go forward
Arsenal boss Arsene Wenger
Barca assistant coach Tito Vilanova, who gave the post-match conference to allow coach Pep Guardiola to nurse a back problem, said: "We will arrive at the match against Arsenal well prepared.
"We rested some players and improved the physical condition of others. I think they will all be able to play on Tuesday without problems."
Arsenal midfielder Andrey Arshavin came off the bench in the first leg at the Emirates to score the goal that gives the Gunners a 2-1 advantage going into the Tuesday's game.
Fabregas played in that victory but has missed the Gunners last three matches with a hamstring injury, while Van Persie injured his knee in the Carling Cup final on 27 February.
Wilshere declared his availability on Sunday after recovering from an ankle knock picked up in the 0-0 draw against Sunderland on Saturday.
With centre-back Thomas Vermaelen still out, Johan Djourou and Laurent Koscielny will be tasked with taming Lionel Messi, Villa and, in all probability, Pedro Rodriguez in attack.
Barcelona, the Spanish league leaders, beat Arsenal 2-1 in the 2006 Champions League final and 6-3 on aggregate in last year's quarter-finals. (BBC Sport)
Arsenal have now confirmed that they will announce the decision about whether striker Robin Van Persie will take part in this crucial Champions League encounter shortly before kick-off, and not before. Clearly Gunners supporters will hope that the injury prone striker is fit but will also hope that he isn't rushed back early, only to suffer a relapse of his knee problems during the match itself.
Nicklas Bendtner did of course score at the Nou Camp last term and whilst he was profligate in front of goal against Sunderland on Saturday, the Danish international has netted 11 goals in 25 games this season with 11 of those appearances coming from the bench.