Is this next season's Liverpool away shirt? Spotted on the always excellent Empire of the Kop.
Watch Sporting Braga v Liverpool live streaming with GetSport.TV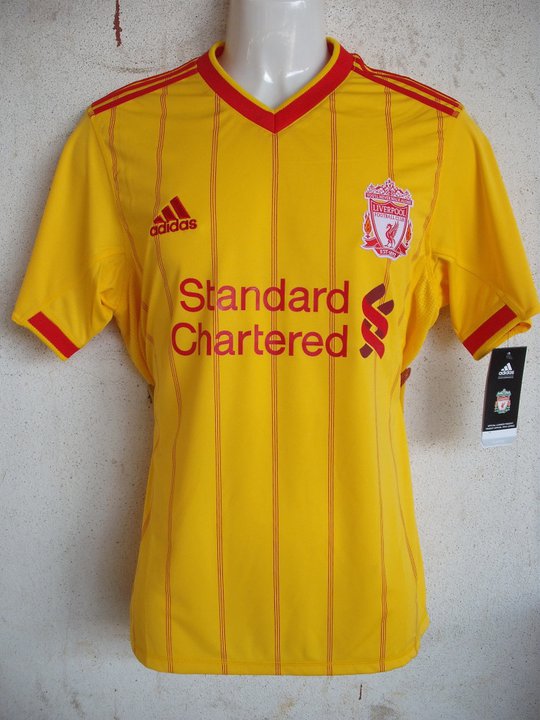 While we are at it, here is the latest in the way of team news for Liverpool's trip to Portugal in the Europa League on Thursday.
Liverpool defender Fabio Aurelio has been ruled out of action for up to a month with a hamstring injury.
The Brazilian picked up the problem during Liverpool's 3-1 win over Manchester Unitedon Sunday.
The left-back had only returned to action against United after recovering from an adductor injury, but he suffered the hamstring problem in the first half and was forced to limp off.
Liverpool's Head of Sports Medicine and Sports Science Dr Peter Brukner has confirmed Aurelio faces up to a month on the sidelines.
"He's got a significant hamstring injury. Unfortunately his body lets him down," said Brukner.
"He always play well when he's fit. We've been managing him carefully because he's not been playing twice in a week, but this just came out of the blue.
"He had a minor adductor strain a few weeks before that. We rehabilitated him and he trained all week with no problems at all.
"He'll be out for a month so that's a blow. It's a partial tear. It's what we call a secondary degree hamstring. It's similar to Martin Kelly's and these are three or four week injuries.
"He's obviously very down. It was a sad sight to see him walking off the pitch. He's frustrated because he was playing well on Sunday. He was looking forward to getting a run of games but it wasn't to be."
Agger missing
Aurelio joins fellow defenders Martin Kelly and Daniel Agger on the sidelines and leaves Kenny Dalglish short of options at the back.
Brukner revealed the Europa League game against Braga is likely to come too soon for Agger as he recovers from a knee injury.
"Daniel had a nasty kick on a joint to the side of his knee," added Brukner
"It's an unusual spot to get an injury. They take time and he's a bit of a slow healer.
"He's still not 100 per cent so we'll have to see if he's fit for the game this week. But it's more likely to be the following week." (Sky Sports)