Stadium of Light star is happy at his hometown club and does not want to go to Old Trafford.
Premier League Tickets Available from Tixdaq.com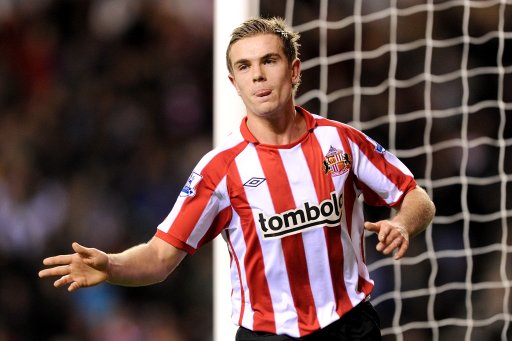 Sunderland midfielder Jordan Henderson has rejected a move to Manchester United to stay at his hometown club.
This adds more bad news for United manager Sir Alex Ferguson who has seen his Premier League lead cut to three points after successive defeats to Chelsea and Liverpool.
The 20-year-old has produced many fine performances this season earning him a first England cap and many potential suitors.
But amid speculation a deal had already been confirmed – a matter dismissed by manager Steve Bruce – Henderson has expressed his wish to remain on Wearside.
"I do feel I have improved this season," he told The Journal. "I'm a better player than I was 12 months ago.
"It has been another great season for me. I have had some ups and downs along the way, but it's all part of my development. I have coped okay with the second season thing.
"I'm improving every day, that is what I'm aiming to do. I'm enjoying myself at Sunderland, I'm not looking to leave.
"I'm playing every week in the Premier League and that's all I have ever dreamed of doing.
"I'm young and I'm playing for Sunderland. It's something I love doing. I just want to keep doing that, keep improving, keep getting better as a player."