Emirates boss believes referee's Nou Camp decision cost football a beautiful game.
Premier League Tickets Available from Tixdaq.com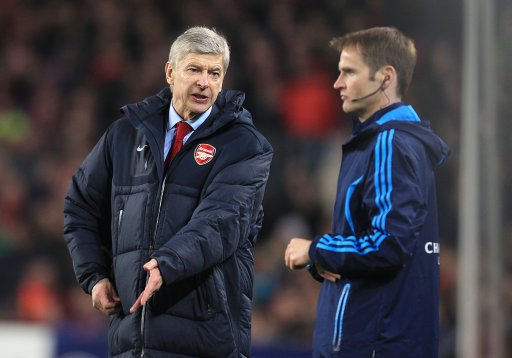 Arsenal manager Arsene Wenger revealed Uefa officials are 'shocked' with Robin van Persie's sending off by referee Massimo Busacca.
Van Persie was given his marching orders early in the second half of the 3-1 defeat by Barcelona in the Nou Camp.
The Arsenal striker was deemed to have kicked the ball away after being caught offside with the tie delicately poised at 1-1, Arsenal leading 3-2 on aggregate.
But the Dutch international claimed to have not heard the whistle because of the noise from the 95,000 supporters.
Van Persie labelled the decision a 'total joke' while his manager was involved in an angry exchange with the official in the tunnel after the game.
Wenger believes Uefa will be left red-faced by Busacca for destroying a fabulous advert for the game, but he feels Barcelona do deserve a lot of credit.
"I spoke to Uefa people," Wenger said. "They are shocked as well because it killed a promising, fantastic football match.
"What for? If it's a bad tackle or a second bookable offence, okay, but frankly it is embarrassing.
"Two kinds of people can be unhappy; those who love Arsenal and those who love football can be frustrated with the referee's decisions.
"When he made the decision it was a very promising game, very interesting. That's the regret.
"We lost against a very good Barcelona side, congratulations to them and good luck for the future.
"We have many regrets tonight because we didn't expect to lose the game like that. I feel sorry for people who watched the game."