Is the England boss trying a new form of mind game by claiming the White Hart Lane wizard as the best footballer on the planet?
Premier League Tickets Available from Tixdaq.com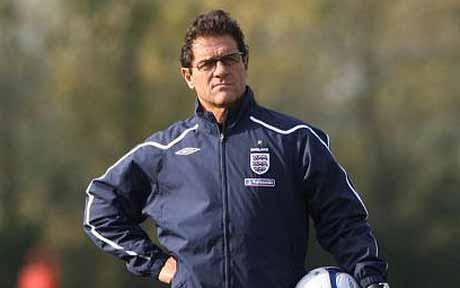 England manager Fabio Capello believes Tottenham winger Gareth Bale is the best player in the world.

The 21-year-old Welshman is hoping to shake off a back injury in time to face AC Milan in the UEFA Champions League at White Hart Lane on Wednesday, and Capello has highlighted his threat.

The Italian said: "Gareth Bale is today the number one player in the world.

"He is the only one who can make a difference in the role he plays as he has pace, technique and strength. Those are three qualities it is hard to find in a player who is not a striker.

"Bale doesn't set out from defence like a full-back. He drives forward and when gets nearer to goal he moves infield and shoots with amazing accuracy.

"Bale reminds me of Roberto Carlos, who was born a left-back and who matured physically and in terms of tactical awareness.

"Carlos was an explosive player and the only one who came even close to Bale."

Source: Sky Sports
Why would Fabio Capello say this?
Perhaps he is starting the mind games early in preparation for England's European Championship qualifier with Wales at the end of the month?
No one doubts the ability of Gareth Bale and if anyone does, they should watch the Welshman destroying the European Cup holders Inter Milan in both Champions League ties earlier in the season.
The 21-year-old is a class act: he has an abundance of pace and stamina, upper-body strength, great vision and awareness and a clever brain.
In short: a great footballer.
But the Italian-born England manager has been too hasty to declare Bale the best in the world.
Any Catalan fans or Madristas may beg to argue that their star players have a better claim to that title.
Is Bale even the best player in the Premier League?
So far Bale has played 24 league games, scoring seven and creating one assist, according to ESPN statistics.
Manchester United's Nani, who occupies a similar position, has a better record of nine goals and 13 assists from 25 games.
And for those of you who may argue Manchester United are a better team than Tottenham, here are some more stats for you.
Arsenal – who no Tottenham fan will admit has a better team – midfielder Samir Nasri has nine goals and one assist in two games fewer than Bale.
Whilst Theo Walcott has seven goals, six assists in as few as 19 games.
Blackpool's Charlie Adam even has better stats than Bale with seven goals and six assists in 28 games.
Bale is not even the most creative player in his team. Rafael van der Vaart has 10 goals and six assists in 19 games.
The qualities of Gareth Bale are for all to see, and his Champions League record is unbelievable with four goals and two assists in six games.
But to call him the best in the world is a tad premature, even from the ageing Capello.