Young South Americans who may soon be plying their trade in Europe.
Premier League Tickets Available from Tixdaq.com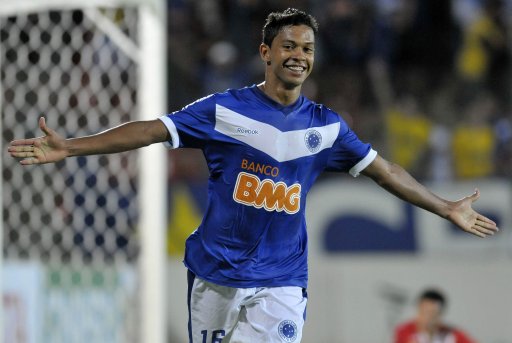 1. Wallyson
The Brazilian Winger/Striker plays for Cruzeiro of Brazil. He has made 21 appearances for Cruzeiro and scored 9 goals in the league, alongside his 4 goals in 3 appearances in this years Copa. At only 22 years old he looks to be a promising player. A fantastically controlled volley and a calm finish when the ball came to him in the box against Guarani gave him two of his three goals for the tournament. He is yet to make an appearance for his country but it is hardly surprising giving the vast talent available. If we do not see him move across to Europe he will still be an exciting player to watch in this years competition.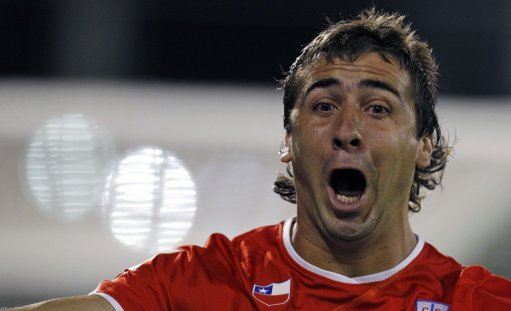 2. Lucas Pratto
The 22 year old Argentine striker has previously had an unsuccessful spell in Europe at Norweigan Club Lyn. He only scored 4 in 21 appearances. While he has not been prolific through his career, he is scoring goals for his current side Universidad Catolica of Chile. He has 3 goals in 2 in the Copa and 2 in 6 in the Domestic Apertura. He is quick and very comfortable running with the ball and running at players. I think we will see more goals from him in the competition.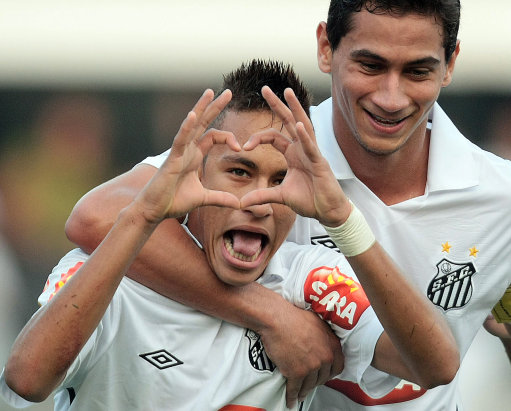 3 & 4 Neymar and Ganso
These two will definitely be coming over to Europe in a few years. Ganso is being strongly linked with a move to one of Europe's elite, including Lyon, Milan and Chelsea. Neymar has also been linked with similar teams. However, Santos currently lie 3rd in their group with 2 draws in 2 games. They will need to get a better result in their next game away to Colo Colo of Chile. Both players have a couple of caps for Brazil now and we will no doubt see them in Europe's finest competition soon. Neymar, 19, is a pacey, skillful striker and Ganso, 21, is a playmaking midfielder. Santos will need these two players to start performing at the full ability if they are to progress to the next round.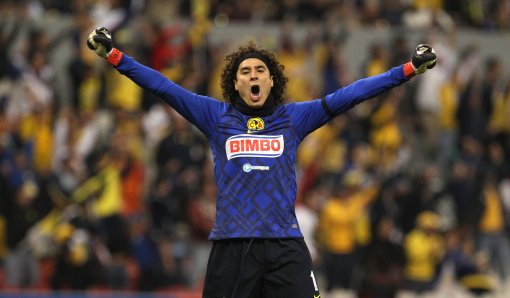 5. Guillermo Ochoa
This Mexican 'keeper will be 26 in July. He plays for Club America of Mexico and is currently Mexico's number 1 with over 40 caps. Since he was young he has been tipped to be one of the top Goalies in world football but is still yet to make a name for himself. His best years are surely still to come as Goalies tend to peak later on in his careers. He has been linked to a move to the Premiership before and will be influential for Club America as they look to proceed.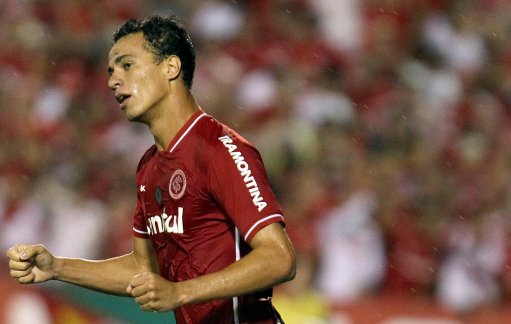 6. Leandro Damiao
At only 20 years old Damiao scored in last years Copa Libertadores as his team, Internacional of Brazil, went on to win. Another young Brazilian striker who looks to have a promising career ahead of him. He is now 21 and starting to become a regular feature for the reigning champions. He looks to be fairly adept when using his head to which is fairly rare for a Brazilian striker. I'm sure he will have a good tournament and get a few more goals as Internacional should progress.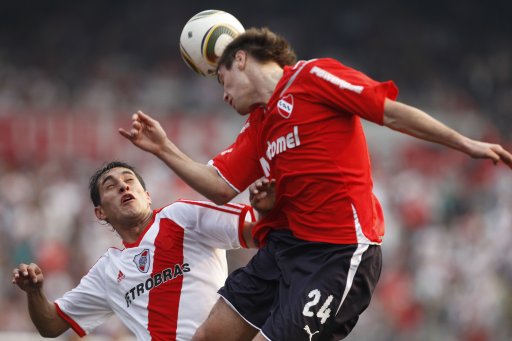 7. Leonel Galeano
Still a youngster at 19 years old Galeano is definitely one for the future. He has featured regularly for Independiente of Argentina, and is cementing his plays in the starting 11 at centre back. It is not often one so young is trusted with holding down a first team spot in such an important position. This speaks volumes about his ability and also his potential. He made his international debut for Argentina just over a year ago, in a squad that was composed of only Argentinian domestic league players. Despite not making another appearance as of yet, I'm sure he will be a regular in the squad as he gains more experience.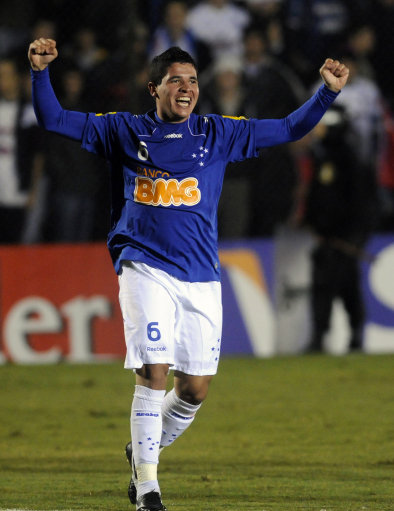 8. Diego Renan
A short Brazilian full-back, aged 21, who plays for Cruzeiro of Brazil. He is your typical Brazilian full-back. He can play either side, though he is more frequently played on the right. He is very comfortable on the ball with great close control. He is not shy of taking on a player and also has a great shot behind him. His delivery isn't too shoddy either so I'd expect to see him at a European Club within a few years. Probably Shakhtar, they love their Brazilians.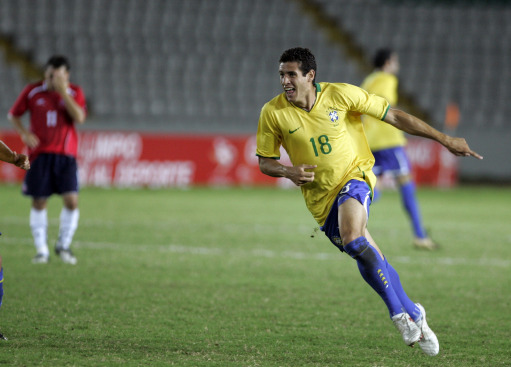 9. Maylson
Another youngster tipped for big things, and again another Brazilian. This 20 year old midfielder plies his trade for Brazilian side Gremio. The versatile midfielder has already bagged himself a couple of goals in this years competition. He is yet to gain a full international cap despite featuring for Brazilian U-19 and U-20 squads. He obviously has the ability to get himself a goal or two which is an invaluable asset for a midfielder. Some consistent performances will no doubt alert a European club.
10. Enzo Perez
This speedy right winger is already nearing 200 senior club appearances despite only just celebrating his 24th birthday. Perez has pace to burn and is also a decent finisher scoring a cracking goal against Internacional in last years Copa as his club, Estudiantes (LP) of Argentina, almost knocked the team out who went on to win. He has been linked with a move to Hamburg and you can see why. A very exciting player with a few senior caps to his name who will no doubt be moving to Europe soon.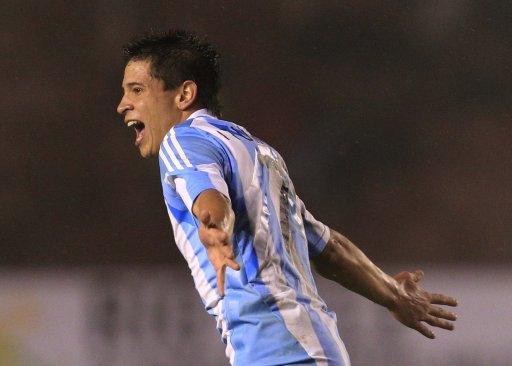 11. Juan Iturbe
A very exciting young player. He is only 17 years old and has 2 goals in 2 games in this years Copa. He plays as a forward for Cerro Porteno of Paraguay, though he has been capped by Argentina. He turns 18 in June and will be moving to FC Porto. He has been dubbed 'the Paraguayan Messi' and his style of play draws a lot of comparison to possibly the best player in the world. He was capped by Paraguay but only in a friendly so it did not secure him to the national side. Later on Argentina swooped in, as he was born in Buenos Aires, and capped him in their U-20 side. I really look forward to seeing him at Porto next year.
I have mainly concentrated on some of the younger players in the competition as they have more of a chance to earn their move. Moving too early is not always of benefit however as it can unsettle a player and if it does not work out it can damage their development, Freddy Adu being a prime example of this (though he is not South American, the same rule applies). Some other players still worth watching include; Louis Angelo Pena of Caracas, Danny Santoya of Deportes Tolima, Rodolfo Gamarra of Libertad, Aldo Corzo of Universidad San Martinand Miler Bolanos of LDU Quito. Keep an eye out for the striker Antonio Michael Pedroza Whitham of Jaguares. Rumour has it he was born right here in the UK!