Emirates boss needs to take a long hard look in the mirror.
Premier League Tickets Available from Tixdaq.com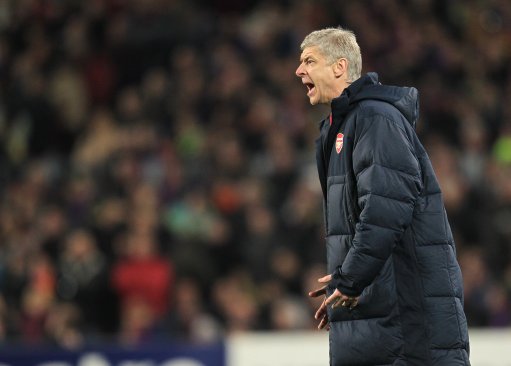 Two stories emerged from the Nou Camp on Tuesday night. Which do you want to believe? Here's your choice:
For the second time in 5 years, Arsenal were cruelly robbed of a winning position against Barcelona by a harsh refereeing decision.
OR
Arsene Wenger digs his own team's grave, and at the first sight of injustice, the players jump in.
The former may be the line cast by some of our more jingoistic media. But the realists will find satisfaction in the cold hard truth of the latter.
Wenger has many outstanding qualities, but a penchant for self-pity is not one of them. Defeat is too often blamed on poor officiating which, in any case, tends to favour the big clubs over the course of a season.
There's no need to wheel out the tried and trusted 'number of penalties given to the opposition at Old Trafford' stat to prove an oft-made point.
Wenger was at it again at the weekend, bemoaning an admittedly poor offside decision, which ruled out a good Arsenal goal, thus failing to prevent a 0-0 draw against a struggling Sunderland side.
Last night, Robin Van Persie was harshly sent off, just after Arsenal had been invited back into the game by a Sergio Busquets own goal. Wenger was straight out to the press, proclaiming, somewhat dubiously, that victory was certain had Arsenal retained a full compliment of players.
There was, of course, no mention of the stonewall penalty denied to Lionel Messi in the first half that could have put Barca out of sight by half-time.
Arsenal were beaten and battered during that first half. Knowing applause from the Barca fans rang around the Camp Nou like the sea breaking repeatedly on the shore, as they watched the familiar sight of their team launching wave after wave of beautifully constructed attacks.
Gradually Arsenal's brave defences were eroded by the onslaught and the players were tiring. Arsenal hadn't even registered a shot on goal by the time they were gifted a fortuitous equaliser. Victory was far from certain, Arsene.
True, the sending off was unlucky. But in similar circumstances in last year's semi-final, Jose Mourinho's Inter Milan team was galvanised by its ill-fortune. Injustice was their catalyst; for Arsenal it was the death-knell.
An impressive first half show of resilience and defensive quality limited Barca to few attempts on goal. Van Persie hardly touched the ball, such was his solitude up front, in a remarkably one-sided game.
Just 30 minutes from glory after being lifted from the floor by Busquets, Arsenal should have been fired up by the red card; motivated to repeat their defensive display and to try and cling on to a famous draw.
Instead, their heads instantly, palpably, went down. There was a collective release of energy and fight as the belief ebbed away in seconds. The players looked broken.
Arsenal are building team unity, and that togetherness led to a stirring comeback against the Catalans at the Emirates. But, on that occasion Arsenal were on a level playing field. They'd been outplayed, but fairly. Given an excuse to capitulate at the Nou Camp, they duly did so.
They say dogs are like their owners. Well, teams reflect the personality of their managers. Arsene Wenger's consistent blaming of Arsenal's defeats on bad luck came back to hurt him last night.
His team was wronged, and at the same time the players felt the dreadful onset of defeatism and victimisation. Arsenal may have self-belief, but they also need some true grit, and so does their manager.
Read more from Ben at the excellent Upper 90 Magazine website CLICK HERE to do just that.