Emirates boss vows to play strongest team for Old Trafford cup tie.
Premier League Tickets Available from Tixdaq.com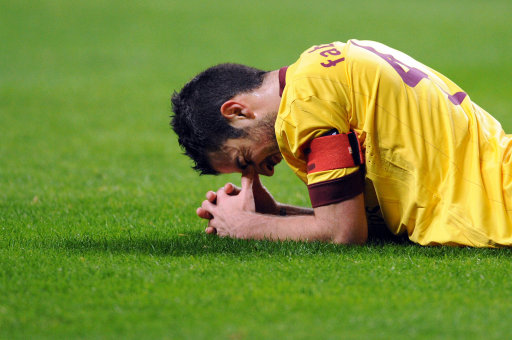 Arsenal manager Arsene Wenger has promised to field his strongest XI against Manchester United in the FA Cup on Saturday.
But the Frenchman will be without his captain Cesc Fabregas and goalkeeper Wojciech Szczesny for the trip to Old Trafford.
It is not all bad news for the Gunners with the news striker Robin van Persie is available following his red card in the Champions League tie with Barcelona.
Fabregas suffered a recurrence of his hamstring injury in the first 15 minutes of  the game but managed to stay on for an hour, battling through the pain.
The injury is a major blow for Arsenal who are chasing a Premier League and FA Cup double.
"He had a recurrence of his hamstring problem," Wenger said. "He will be out for the next game and maybe for the next two games.
"He said he was fit [to face Barcelona] and when Cesc Fabregas is fit you play him. He is of course very disappointed because it is becoming a bit of a problem for him, but it's very superficial."
Fabregas is joined on the sidelines by Szczesny who dislocated a finger at the Nou Camp when saving a Dani Alves free-kick.
Manuel Almunia is set to replace him but with keeper Lukasz Fabianski also out for the season, Wenger may make a move into the emergency loan market for a new shot-stopper.
"He has a dislocated finger and it's a tendon problem and we need the assessment of the specialist," Wenger said. "He's out for a while but how long I can't tell you."
Asked whether he had a loanee in mind to cover for Szczesny, Wenger said: "Yes, but I can't tell you."
Theo Walcott and Alex Song are also both out of the FA Cup tie but there is better news on Robin van Persie.
The Dutchman suffered no reaction during the Barcelona game to his knee injury and will lead the line on Saturday.