Gunners legend believes that Emirates manager Arsene Wenger must spend big.
Premier League Tickets Available from Tixdaq.com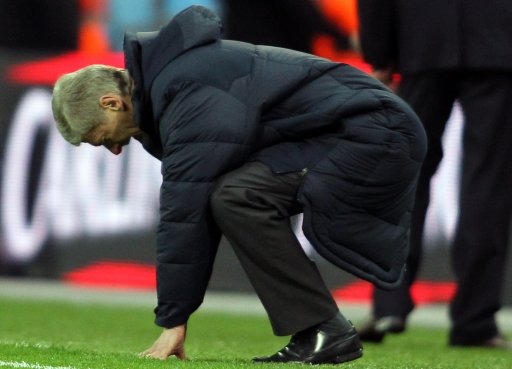 Arsenal legend Bob Wilson believes his former club must compete with the likes of Manchester City and Chelsea in the transfer market if they have any hope of ending their trophy drought.
Barcelona put paid to the north London club's Champions League dreams on Tuesday night and Arsene Wenger's men are now without any silverware since their FA Cup victory over Manchester United in 2005.
Arsenal also lost the final of the Carling Cup to Birmingham in dramatic fashion just over a week ago and Wilson is worried the Gunners will end up being the 'nearly team' of English football.
"Arsenal might finish up being a nearly team because they are great to watch but you could accuse them of being fragile," the former Arsenal goalkeeper told talkSPORT.
"At the end of this season, whatever happens, Arsene [Wenger] is going to have to reflect carefully on who he brings in and it's not just a two or three signings, one of them is going to have to a big, big signing. By that I mean a lot of money, like Man City, Chelsea and Man United.
"Arsene Wenger has to live up to the 'invincible team' that didn't really get the credit they deserved for finishing the season unbeaten. He probably will never ever come close to matching that Arsenal side."
SOURCE: Give Me Football-Official PFA Website
Have to say I agree with Bob Wilson on this one, and not just because I attended his Soccer School, but because the Arsenal legend hits the nail on the head. It is surely time that Arsene Wenger bought big this summer, not just for the sake of it, but because his insistence on scouting out the 'next big thing' only serves to leave the North London side seemingly in a permanent state of transition.
Clearly the Gunners boss is an expert at spotting talent and knows how to shape gems from unpolished unknowns but maybe not is the time to bring in established names to help balance his squad? If Arsenal fail to secure a major honour this season, and by that I don't mean the FA Cup, then it will surely be time for a re-think.
Failure this term would make it six seasons without success and even a manager as highly regarded and decorated as Wenger will start to feel the pressure weigh on him and let's face it, the club has the funds to spend big, so why not do so?
The club could well do with a big name keeper and the likes of Pepe Reina and Manuel Neuer are strongly mentioned and even though Manuel Almunia put in a great performance at the Nou Camp, the Spaniard is still known primarily for his ability to drop multiple clangers. Vito Mannone will apparently be on his way because he has already fallen behind hot prospect Wojciech Szczesny in the pecking order and Lukasz Fabianski is still far to inconsistent to be thought of as first choice.
Arsenal would also benefit from the signing of an experienced centre back, only one who is not as old or average as Sebastien Squllaci. Laurent Koscielny has shown good form in patches but is arguably not good enough for a club chasing for major honours. Thomas Vermaelen is clearly a class act but his injury problems could haunt the club, luckily Johan Djourou is starting to deliver.
Maybe the club could also do with another striker? Robin Van Persie is of course perennially injured, Marouane Chamakh started life in the Premier League with a bang but now plays with a whimper. Nicklas Bendtner fluffs his lines far too often but perhaps Carlos Vela's form at West Brom will result in the Mexican becoming a more rounded player in much the same way Jack Wilshere matured after his loan move to Bolton.
Arsenal have the nucleus of a potentially great team and could simply use a big name or two to help the club realise their obvious potential.