Anfield side to spend big again.
Premier League Tickets Available from Tixdaq.com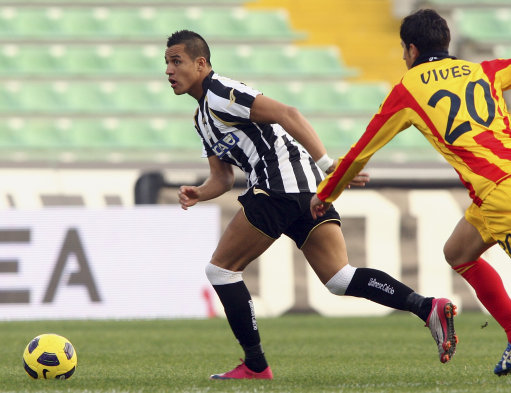 Liverpool make £35m offer for Chelsea target
Reports are circulating that Liverpool have made a huge offer for Udinese flyer Alexis Sanchez.
The Italian club chairman Franco Soldati told Sky Italia that an early official bid has come in, with many believing that it originated from Anfield, with Kenny Dalglish very keen to strengthen his team on the flanks.
He would have little doubt that Sanchez could strike up an excellent rapport with the likes of Steven Gerrard and Luis Suarez.
"Sanchez is of interest to both English and Italian teams. A team has already offered a figure close to 30-35 million euros [for Sanchez] but I cannot say where it came from," Udinese chairman Franco Soldati told Sky Italia.
Udinese Sporting Director Fabrizio Larini added fuel to the fire on Calciomercato:"A evaluation of €25 million for Sanchez? Looking at what has been paid for [Luis] Suarez, [Fernando] Torres and David Luiz in England, I think Sanchez will also be sold for more than €25 million."
SOURCE: Sportingo
Some may baulk at the chances of Liverpool spending another large sum this summer, having spent big on Luis Suarez and Andy Carroll in January, however it is worth noting that that spend was almost totally covered by the sales of Ryan Babel and Fernando Torres so therefore the club's owners have in reality not really had to spend very much as yet.
Alexis Sanchez is a player who is rightfully receiving a lot of attention. After a couple of solid and impressive seasons with Udinese the Chilean winger then boosted his reputation with some quality displays at the 2010 World Cup and this season he has taken it up a notch.
The 22 year old winger has started to score regularly as well as put in more than his fair share of assists that have helped make Udinese striker Antonio Di Natale top scorer in Serie A, both this term and last. Liverpool could well do with some natural width and Sanchez would be ideal for the job.
Roy Hodgson and Kenny Dalglish have both tried to use the likes of Maxi, Joe Cole, Milan Jovanovic and Dirk Kuyt to play on the wings and none of this quartet has really made an impact, either the players named have not put in consistent performances of any quality or in the Dutchman's case it seems that reverting back to a striker may be the way to go, as evidenced by his hat-trick against Man United.
The likes of Real Madrid, Man United and Chelsea are also said to be keen on the pint sized wide-man.