Spanish shot-stopper accuses his Emirates team-mates of not giving their all at the Nou Camp.
Premier League Tickets Available from Tixdaq.com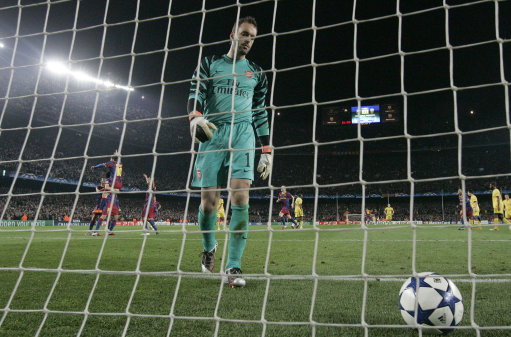 Arsenal goalkeeper Manuel Almunia has accused his team-mates of not giving everything against Barcelona and blames them for the defeat.
The 33-year-old produced a string of fine saves to deny the Catalans a bigger scoreline after coming on in the first-half to replace Wojciech Szczesny, who dislocated a finger.
For many the turning point of the match was Robin van Persie's red card with the tie delicately poised at 1-1.
Barcelona took advantage of the one-man deficit by scoring two goals in three minutes to settle the game at 3-1, winning 4-3 on aggregate.
But Almunia has risked the wrath of his colleagues by suggesting some Gunners did not give their all and if they did, could have sneaked through.
"Barcelona
bossed us and in the second half we had players that were not running," he said.
"We only needed one goal and with a bit more effort we could have caused them damage at the end.
"Even at 3-1, we only needed one goal and, well, you can't understand how there can be players that were walking. We were tired.
"It seemed that everything was lost but you can score a goal at any moment. So the only explanation I have is that we were so tired and the players couldn't give any more.
"And down to 10 men, it was double the effort. We came up against a Barcelona side that are the best in the world."