President of Asian Football Confederation will challenge 13-year dictatorship in Zurich elections.
Premier League Tickets Available from Tixdaq.com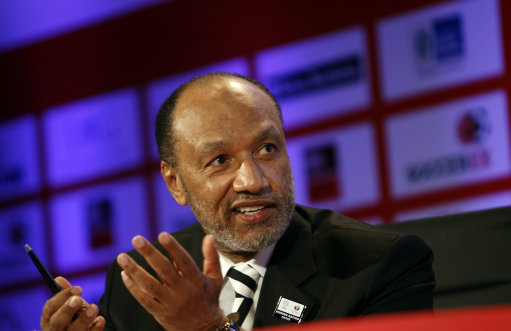 Asian Football Confederation's president Mohamed bin Hammam has dropped his biggest hint that he will oppose Sepp Blatter in Fifa's presidential elections in June.
Hammam will use his elevated position within Fifa to unseat Blatter, who has been football's world governing body president for 13 years.
The Qatari has served as a member of Fifa's 24-man executive committee for the past 15 years and is the chairman of the Fifa Goal Bureau, providing financial support for member associations across the world.
He was also extremely influential in bringing the 2022 World Cup to his native country.
The 61-year-old is waiting for support from Europe and in particular Michel Platini, the Uefa president, before deciding whether to stand. The FA are expected to endorse Hammam's election campaign.
"People have to try change. Change is good," Hammam told the Guardian. "Within 10 days I will formally declare whether I will stand or not."
"I would 100% support someone else. I have not spoken to Michel Platini for a long time but I told him that if he runs he'd have my full support. That remains the case.
"The FA declaration (of support) is very encouraging."
Hammam would like to see more engagement with the clubs, who drive football's income, and to see greater transparency in Fifa's decision making.
"I would call for more transparency in Fifa, to widen the decision-making base and bodies within Fifa," he added. "I'd engage stakeholders more and give them a real platform to express their wishes.
"We cannot ignore the clubs. We should respect the clubs, and it is for the clubs also to respect the member associations."
The elections will be held on June 1, and while Hammam enjoys good relations with all six confederations, he sees European support as they key to winning the election.
"I am happy with (perceptions in) most confederations but I don't know about Europe and how they will deal with my candidacy," he said.
"Europe is the core of football. I would like now to make a real assessment in Europe. I have not declared myself as a candidate; maybe [upon doing so] it will be easier to see the response then.
"I will go to the Paris Congress of Uefa [on 20 March] and I will already have declared my candidacy or otherwise."