COS contributor puts their neck well and truly on the line.
Premier League Tickets Available from Tixdaq.com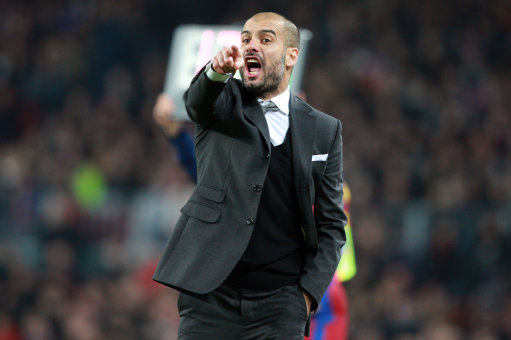 So the eulogising continues over "The Best Team in the World".
If they really are, then it just goes to show how far standards have dropped in world football.
Truly great teams win games in many different ways. They are flexible and adapt their playing style, when required, to overcome ALL opponents. They find a way to win that may need them to abandon 'Plan A' and go with 'Plan B' or 'C' or even 'D'.
And that's where this current Barcelona fall way short of the truly great teams. They've only got a 'Plan A'. No back-up, no 'other way'. Just retain possession, pass the opposition into submission, wait for mistakes, capitalise, attempt some theatrics following fair tackles and hope this sees you through.
This was evident last night when they took on a weakened Arsenal side who provided stout resistance to wave after wave of passing attacks that weren't really going anywhere for 45 minutes until Fabregas attempted a suicidal back-heel on the edge of the Arsenal area that handed Barcelona their first goal on a silver platter.
3 goals. One mistake, one penalty and one scored in open play. Possession is only one stat and it doesn't always guarantee victory. Especially in European competition.
Arsenal were able to draw level and seemed poised to punish Barcelona's profligacy in possession until Van Persie's ridiculous red card. They had the opportunity to expose this Barcelona side for what it is and it was cruelly snatched away. Arsene Wenger knows this. Which is why he's so frustrated after suffering at the hands of officials for the second game running.
And it's a fact that this Barcelona team has inherent weaknesses that a more resilient, courageous and artful team would have exposed.
The goalkeeper is highly susceptible to errors. The defence is hardly solid and can be easily out-witted and out-manoeuvred. Their midfield defensive cover often goes missing and the players available (Busquets) is suspect. They are far too reliant on the finishing of Leo Messi and the midfield passing of Iniesta and Xavi. Stifle them, deny them space and they've got nowhere to go. They can't change their style because all their players have only been schooled in one style. They can fade badly in some matches and their away record is nothing to write home about (see 1-2 v Arsenal)
They have no alternative. Great when it works (v Real Madrid this season). A dead-end when it doesn't (v Inter Milan last season).
And don't overlook the fact that at 4-3 on aggregate last night, Barcelona were one composed piece of control and a deft finish away from defeat on away goals. If Robin Van Persie instead of Nicklas Bendtner had been given the same opportunity the 'Catalan Giants' would more than likely be out of the competition.
If they come up against a team with that won't to succumb to their 'Plan A' in the later rounds of the Champion's League this season, I fully expect them to be knocked-out again just like last season when they ran up against the immovable object of Inter Milan who had them passing into cul-de-sac and also players to exploit their weaknesses.
Barcelona then; the best of a mediocre bunch and certainly cannot be compared to the greatest teams to have graced the European stage.