Whatever happen to the heroes.
Premier League Tickets Available from Tixdaq.com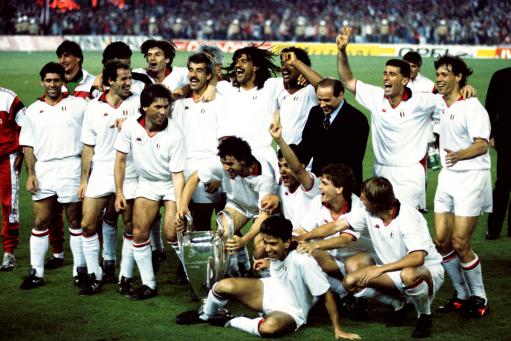 Last Wednesday both AC Milan and Roma were eliminated from the Champions League, leaving Inter Milan as the only Italian team left in the competition. They have an unenviable task of overturning a 1-0 deficit to Bayern Munich next week and should they be unsuccessful there will be no Italian teams in the Champions League Quarter Finals. Due to UEFA's ranking system, Italy is also set to lose its fourth Champions League entrant to Germany beginning in 2012-13.
In 1992 we spent our Saturday mornings in the company of James Richardson as he brought us the highlights and the latest news from Serie A whilst sat outside one of Italy's finest cafes in 'Gazzetta Football Italia'. Then on a Sunday we joined him again for a top game every Sunday afternoon on Channel 4, where even the likes of Elvis Costello would pop in as a co-commentator. Back then, Italian football was the envy of the world as they boasted the top players from around the world including Roberto Baggio, Marco Van Basten, Giuseppe Signori, Paolo Maldini, Gabriel Batistuta and of course Paul Gascoigne.
If you were good enough, you played in Italy. The football teams were owned by rich families that loved the club they owned and would happily spend money for their team to improve. Italian football held the record for the highest transfer fees from 1984 – 1996, when Alan Shearer signed for Newcastle United. Soon that record was smashed when Ronaldo signed for Inter Milan and then it was held by Hernan Crespo and finally Christian Vieri in 2000.
Italian football couldn't keep up with the biggest factor in modern football – money. The English league is now the wealthiest in terms of revenue and investors. Last year, Serie B was sponsored by bwin for 2.2 million Euros when the English Football League was pumped in with £21 million for 3 years. We all know that any team that gains promotion to the Premiership immediately inherit approximately £40 million, mainly from television rights. The global audience concentrates on the Premiership as it is so superior in it's worldwide marketing. Italy can't compete with these finances.
Currently there are no foreign investors in top flight Italian football. I say currently because Roma are currently in negotiations with a part owner of Fenway Sports Group, which is the parent company of the Boston Red Sox and Liverpool. Roma were in great financial shape and was the perfect example of a self-financing club at the highest level. They were owned by Italpetroli who owed approximately 340 million and Roma is a subsidiary of Italpetroli. They were officially signed over to the bank for asset stripping to repay their debts. The league is still trying to recover from all of the well documented scandal 'Calciopoli' and is finding it hard to regain their reputation.The stadiums are so old and ugly, meaning fans choose to save their money and watch the match on television. The average attendances are decreasing every season, but none of the top teams own their stadium so they don't make any money from the gate anyway!
The country is struggling economically. Italy is one of the most taxed countries in Europe but also has the lowest GDP (Gross Domestic Profit) from other countries in Europe, often considered an indicator of a country's standard of living.
Chelsea's Italian manager recently spoke out about the state of Italian football and said "The Italian crisis is transitionary: little investment, no influx of talent, many difficulties for the national team. Once upon a time Italian tactics made the difference, but now the others have caught up, patience is needed," he said. I agree in part. Yes, this is a transition more than a crisis. They must find a way to improve both their financial and political positions, but it is likely that the Premiership will encounter the same crisis when the money eventually runs out. Italy may not boast the top players in the world but the league is still exciting and unpredictable.
They are still given the tag of boring, defensive football from a lot of fans that don't actually watch Serie A! Gone are the days of Catenaccio. Italy hasn't been defence minded for years as the rest of Europe are better at playing 'that' Italian game than the Italians. The likes of Chelsea, Manchester United and Liverpool put so much emphasis on their defence and whenever they play away from home their main target is to keep a clean sheet. The old, reliable defenders in the Italian game are all gone – from Franco Baresi, Maldini and Fabio Cannavaro. The new generation of defenders are not at a similar standard to those that have retired, so the teams put much more emphasis in attack.
This is evident in the formation adopted by the majority of teams in Serie A, as they opt to play 4-3-1-2. High flying Napoli have installed a 3-4-2-1 formation that has currently got them into 3rd place. The only drawback is the lack of natural wingers currently playing in Italy, as teams are starting to field four central midfielders. AC Milan were trying to overturn a 1-0 deficit against Tottenham and started with three strikers up front, playing with freedom and purpose rather than the 'chess' game that Italian teams have been associated with in the past. They just lacked the width that would have allowed them to get behind the Spurs defenders and pin them back.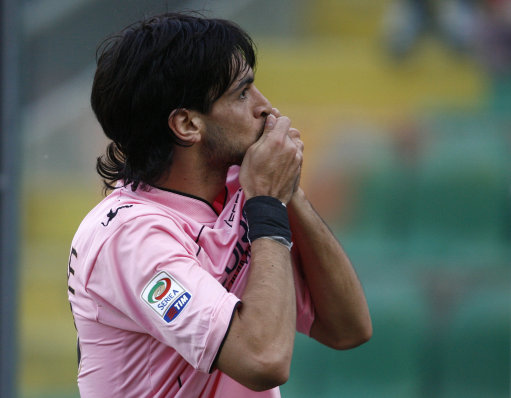 Serie A will remain entertaining with exciting players constantly making a name for themselves. This season has seen the emergence of Javier Pastore, Alexis Sanchez, Edinson Cavani, Marek Hamsik, Alessandro Matri and Hernanes whilst top class players like Pazzini, Etoo, Di Natali and the evergreen Marco Di Vaio continue to show their brilliance. In Spain we know Barcelona will usually always win the league with Real Madrid in their shadow. In England it is either Manchester United or Chelsea that have won the Premiership but at least in Italy there is no team consistently winning. In the last ten years there have been no less than five different champions, with the current champions Inter Milan also the current European Champions.
Serie A will continue through this transitional time with positive, unexpected and exciting football that can stand side by side with any league in the world. If you still think that Italian football is lacking the passion of the Premiership then I urge you to check out this Sunday's afternoon kick-off on ESPN, but be sure to say 'grazie' afterwards!
Read more from Poco T by CLICKING HERE