Uefa and Concacaf leaders will influence the Zurich voting in July.
Premier League Tickets Available from Tixdaq.com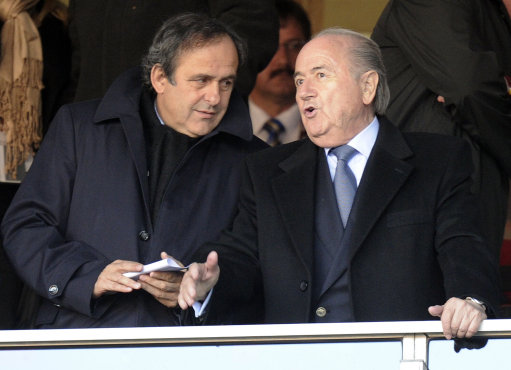 Uefa and Concacaf presidents Michel Platini and Jack Warner have emerged as the most influential figures in the upcoming Fifa elections.
The world's governing body is holding presidential elections on June 1 and is likely to be contested between Sepp Blatter and Mohamed bin Hammam.
Hammam is the head of the Asian Football Confederation and was influential in bringing the World Cup to his native Qatar.
The 61-year-old is likely to reveal if he will run in the next 10 days, while an outside chance is American Grant Wahl opposing Blatter's reign.
The key battle areas are Europe, the Caribbean and North and Central America.
Europe is under the control of Michel Platini, who has significant power because of the money and influence of the European clubs.
The Frenchman was tipped to run for president himself but believes it is too early for him to stand and would prefer to be elected in 2015.
This is a problem for Hammam, as Platini may persuade his confederation to vote for Blatter, leaving the former footballer a free run in four years time.
Jack Warner, as president of Concacaf, is in charge of North America and the Caribbean and has already stated his association will vote as a block.
This gives the controversial Warner immense power over who the 35 votes, his confederation has, will go to.
Warner's notorious inscrutability means both Blatter – despite his long-term alliance with the Trinidadian – and Bin Hammam will need to court him over the coming weeks.
Neither candidate will be sure of his vote after Warner promised Prince William and David Cameron he would support England's 2018 bid before switching to Russia.
South America will give Hammam overwhelming support. Africa, Oceania and Asia  could all be persuaded to support the challenger's campaign.
With 12 weeks still to go before the election date – and Hammam still not even officially declared – it is impossible to call.
Whether the election is fought over policies or personalities, the true direction of the tide will not be known until the final hours of the race.