Reebok Stadium veteran will play his 500th game for the Trotters at St Andrew's.
Premier League Tickets Available from Tixdaq.com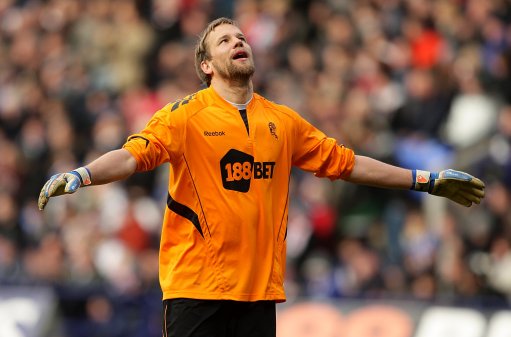 Bolton Wanderers goalkeeper Jussi Jaaskelainen will make his 500th appearance for the Trotters in the FA Cup quarter-final against Birmingham City.
And the 35-year-old has no plans to retire any time soon.
The Finnish international will join an elite list of players to pass that milestone, including Roy Greaves, Alec Finney and the legendary Nat Lofthouse.
Jaaskelainen joined Bolton for £100,000 in 1997, with little indication he would become a Premier League icon.
He says the magnitude of what he is about to achieve is yet to sink in but he is honoured to have become part of Bolton football folklore.
The shot-stopper has no plans to step aside and thinks he can play for another 10 years.
"I'm obviously really glad to make that number of appearances but I always say it's really hard when you're in the moment to really appreciate it," he told The Bolton News.
"As soon as I finish a game, I am right back on to prepare for the next one, so you don't really see the numbers stacking up.
"Of course, it's a great honour to get to this stage and look at the other players who have done it but I haven't been able to think about it much. Maybe it's something I will do when I retire."
"You see players and keepers going on right through their 30s and into their 40s and if I can keep injury-free, I think I can do that too," he added.
"Right now I feel 100 per cent fit, I'm right there for every training session. You learn with experience down the years what you need to do to keep yourself going and keep yourself focused.
"You have to do the right things, not only on the training ground but also away from football, at home.
"You also need the right people behind you – and we have some top guys advising us and making sure that we go the right way."