Old Trafford boss to turn to Villa Park contract rebel to replace unhappy Nani.
Watch Manchester United v Marseille live streaming with GetSport.TV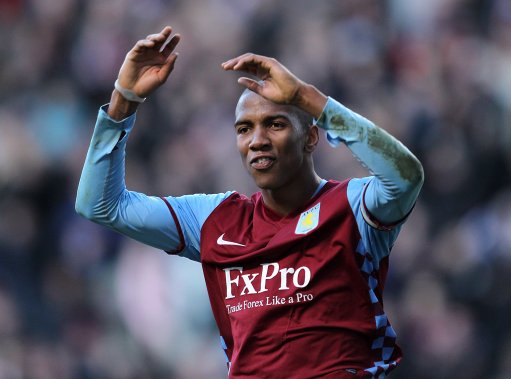 Nani 'to quit Manchester United for Serie A as Ashley Young set to arrive'
Manchester United winger Nani is believed to be contemplating leaving Old Trafford in the summer and has asked his agent to look into a possible move to Serie A.
The 24-year-old only signed a new four-year contract last March but has reportedly told his friends and family he's looking for a new challenge outside the Premier League.
Nani has enjoyed his best season at Old Trafford to date and is expected to make a surprise return for Manchester United against Marseille in the Champions League after being stretchered off the pitch against Liverpool only two weeks ago with a gashed leg.
Reports claim Nani's representatives are trying to negotiate a significant pay rise for the winger, to bring his salary in line with the club's highest-paid stars such as Wayne Rooney and Dimitar Berbatov.
United though are reluctant to renegotiate his deal so soon after his last contract was agreed, sparking rumours the Portuguese player could leave Old Trafford in the summer.
Nani's threatened departure no doubt lead to United doubling their efforts to sign Aston Villa's Ashley Young who has consistently been linked with a move to the Premier League leaders at the end of the season.
SOURCE: Metro
The Metro may be getting a little ahead of themselves, or are they just putting two and two together and putting their ducks in a row sensibly? Sir Alex Ferguson has been chasing the excellent Ashley Young for donkeys and now that the Aston Villa man has made it pretty clear he does not intend on signing a new deal Gerard Houllier may have little choice than to sell the England international.
Some sources believe that Manchester United will still be willing to pay £16m for a player who would be free to leave for nothing in a year come the summer, that is a fee that the Midlands club would surely accept if offered. Nani's call for a bigger pay check is apparently going to be turned down by the Old Trafford club despite his excellent performances this term.
Ferguson has a number of other wide options but arguably all the other possible alternatives to Nani have inherent problems. Ryan Giggs is clearly nearing the end of his illustrious career, Luis Antonio Valencia will be returning from a long term injury, Gabriel Obertan and Bebe have been poor and Ji-Sung Park is not really an out and out winger and that is what the Man United boss is looking for.
Watch this space.