It's been a crazy kind of week in the wonderful world of football. Thanks to the internet we can re-visit these memorable moments over and over again.
Premier League Tickets Available from Tixdaq.com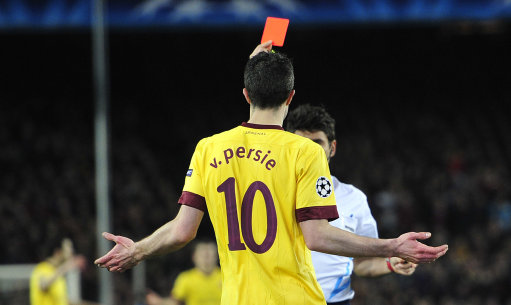 A week has gone past since after Arsenal were schooled in the Camp Nou by the greatest team on the planet and still the frenzy has not died down over Van Persie's dismissal.
I know I've been a bit controversial of late with recent blogs, so I won't change a habit of a lifetime here. The decision to send off Van Persie wasn't that bad – I'm not saying it was right for Massimo Busacca to send off Van Persie. I really don't want people turning up on my doorstep with burning torches and pitch forks, hanging effigies of me from the nearest lamp-post. He could have applied common sense and kept Van Persie on the pitch, but he instead chose to go by the letter of the law and brandish him a yellow card for kicking the ball away. Van Persie says he didn't hear the whistle and you could totally understand that, but Busacca had already made his decision. Sky Sports were quick to tell the people watching at home that not even a second had passed since the ref blew his whistle and Van Persie kicked the ball away.
So what?
He still kicked the ball away after the whistle had been blown and with his right foot, something of a rarity in itself! Some referees have defended Massimo Busacca, Urs Meier said: 'Busacca got it just right. I would have done just the same. The Arsenal people should consider their own behaviour. What Van Persie did was stupid.' I don't think that Busacca should be criticised for sticking to the rules, but he could have applied common sense and given him a warning. Though some people believe that Robin Van Persie was given his second booking for having Arsenal's only shot on goal in the whole game! The way he conducted himself awfterwards was appalling and is not endearing to anyone. Had he conducted himself with integrity afterwards he would have earned so much more respect from the footballing community. He wasn't the only person to feel aggrieved to be sent off in the past week.
Tom Newey was sent off for Rotherham as he punched an opponent, when he actually… didn't. Nobody did. He pushed the time-wasting Barnet player in front of everyone, but no punch. It's one of the softest red card offences I've ever seen!
Doing the rounds on the internet is player-manager of Dorchester Town, Ashley Vickers, as he was sent off in a match with Havant and Waterloovilee for wrestling a streaker to the floor! If you've not seen this you really must click the link below, but with none of the stewards close to doing anything, Vickers decided he'd help get the game going again by taking on the streaker. Unfortunately for him, the referee saw this as violent conduct and sent him off! Another referee applying the letter of the law when common sense could have been applied, but this is such a bizarre incident you've got to see it to believe it. Havant and Waterloovilee were so shocked at the decision that their chairman offered to take one of their players off to even the numbers up!
I'm still baffled by one of the red cards in the FA Youth Cup match between Liverpool and Manchester United. United were awarded a penalty and Paul Pogba stepped up to take it. He hesitated at the end of his run up, waited for the keeper to move and kicked it in the other corner of the goal. The referee then blew his whistle for the penalty to be re-taken and gave Pogba his second booking! If Chris Kamara was covering the game for Sky Sports News he would agree it was "Unbelievable, Jeff!"
Thanks go to Stefan Radu of Lazio this week for giving the referee the easiest decision of his career. What was he thinking?!
Read more from Poco T by CLICKING HERE