Hola Madrid!
Premier League Tickets Available from Tixdaq.com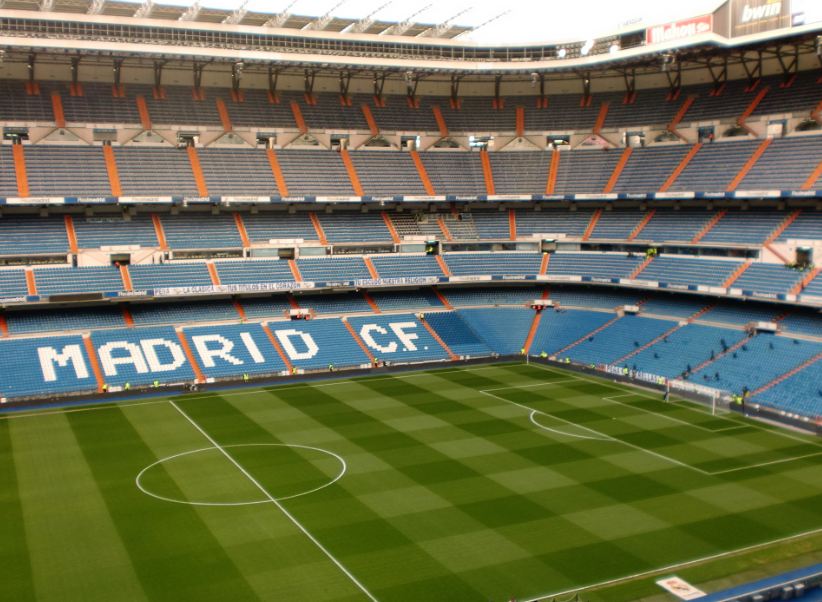 CaughtOffside were kindly invited by the good people of Real Madrid to report on their encounter with Hercules last weekend and it was a most enjoyable experience.
As the adoring thousands flocked towards the stylishly constructed stadium the excitement was brewing to a level higher than one would expect for a fixture against relatively low lying opposition and the police on their horses looked purposeful as they gazed steely eyed towards the supporters who munched on their pre match fare and sung songs that meant little to COS's non bilingual ears but still had the desired warming effect that helped counter the fairly cool early evening climate.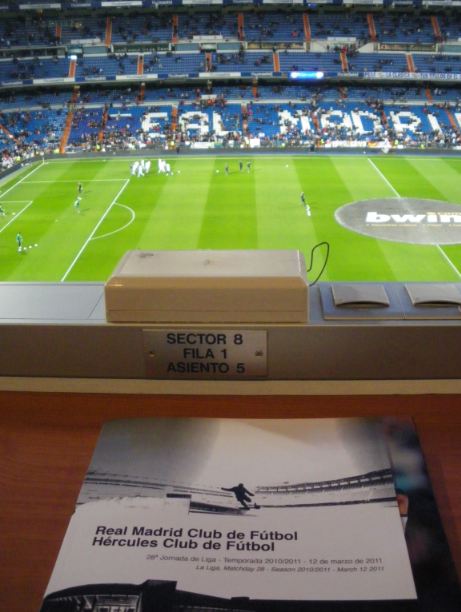 Having been positioned in a terrific seat resplendent with personal television screen COS watched on as the hoards arrived…well, in their hoards, and the masses were whipped into a fervour by all manner of nicely produced compilation videos played on the big screens whilst the strains of Nessun dorma helped to warm the cockles of the 70,000+ Madristas present at the splendid Santiago Bernabeu.
The couple of hundred Hercules fans present were also going to savour their moment in the sun, figuratively and not literally, and they belted out song after song and threatened to make more noise than the home contingent, at least until the game got underway.
After a well observed period of sombre reflection was observed in respect to the continuing crisis in Japan the whistle was blown. Jose Mourinho didn't have Cristiano Ronaldo to call upon and chose to leave some of his star turns on the bench ahead of their Champions League encounter with Lyon and for the opening 20 minutes it looked like a decision the 'Special One' would regret as the struggling Alicante side made a fist of it.
Young attacker Kiko looked up for the battle and former Tottenham defender Noe Pamarot was more than able to deal with cumbersome Emmanuel Adebayor. However the away side were dealt a deadly blow when a nice collection of passes left Alvaro Arbeloa with the simple task of pulling the ball back for Karim Benzema who had the even simpler task of slotting home.
Real Madrid are clearly a side that are instructed in the main to play within themselves, to not over egg the pudding. There's is a workmanlike form of the game that Mourinho has taught all sides he has managed to play. Whereas Barcelona will play hell for leather aiming to always push for another goal, Los Blancos look to take apart the opposition with the type of game that is a marriage of attacking intention with defensive contemplation.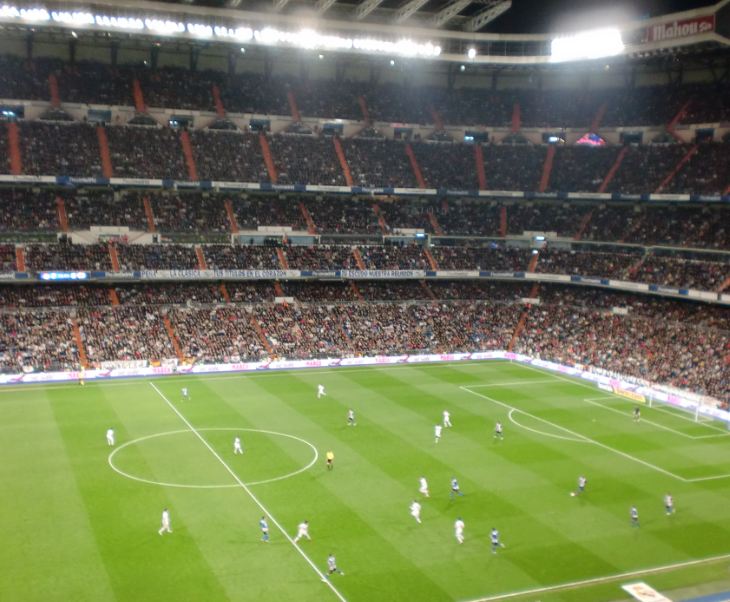 Mesut Ozil was the star of the show throughout, always ready to move the ball along in a fluid manner that is a joy to watch but also impressive was Esteban Granero, a player very used to staring from the sidelines, the local born midfielder was doing a very good impression of Xabi Alonso before the former Liverpool man replaced him with twenty minutes to go.
The referee was pernickety in the extreme and often blew for fouls that never appeared to occur, creating a game that led to either side playing out an attack until a mistake was made as the opposition were too wary of moving anywhere near a player for fear of the whistle. Perhaps this was a sign of things to come as it made the match something of a non-contact affair, which took something away from the battle. This was in marked contrast to the blood and thunder fixture between Sevilla and Barcelona a day later, which at least proved that the art of a good strong tackle was still very much in force.
Hercules played the ball around nicely and always looked to attack but Iker Casillas was more than equal to the task. Benzema ended the game as a contest ten minutes into the second half when he cut inside and fired in an exquisite shot that brought to mind a Thierry Henry in his peak, clearly a comparison that was made of the young French attacker when he first hit the scene.
The French international has experienced a fair bit of opposition during his time at Real Madrid. A mixture of injuries and poor form had threatened to end his career at the club before it had even really began, but in recent matches he has proven that his big money purchase from Lyon may still turn out to be a wise one. With 19 goals to his name he may prove to Mourinho that there is no need to spend big on another attacking option, especially with Gonzalo Higuain on the mend.
As is the style of Mourinho wherever he has managed, Real Madrid played a tight sideways game from that point on and whilst they could probably have added a goal or two more, especially if Adebayor had the ability to convert at least a fraction of the chances laid on plate for him, the Portuguese boss was simply looking to hold on to what he had rather than pushing to inflict more damage on a Hercules side that had amazingly scored just three goals away from home all season, two of which came in their oustanding win at the Nou Camp, still the only game Pep Guardiola's side have lost in La Liga this season.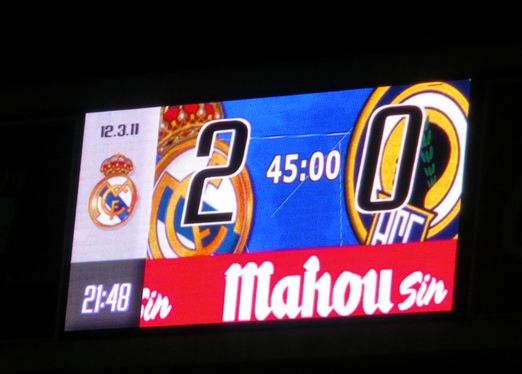 Retreating from the glow of the impressive overhead heaters the media throng headed for the press confernce area where Hercules boss Esteban Vigo batted off worries about the downward spiral of his club's season as best he could before Jose Mourinho entered, looking far smaller than the man we regularly see on the TV screen.
He was satisfied with his side's efforts, as well he should be, but knows that success this term is no longer really in his own hands. He awaits a stumble or two from Barcelona, in much the same way as his predecessor Manuel Pellegrini did, and it's an occurrence that may not occur and perhaps this is why Mourinho is more than happy to rest a player or two in his efforts to land a Champions League triumph that Real Madrid would very much like to achieve, almost a decade since their last success on the European stage.
It remains to be seen if Real Madrid and Jose Mourinho are a marriage made in heaven and it may well be Nou Camp boss Pep Guardiola who decides if a divorce is on the cards or not.