Passion vs Patience.
Premier League Tickets Available from Tixdaq.com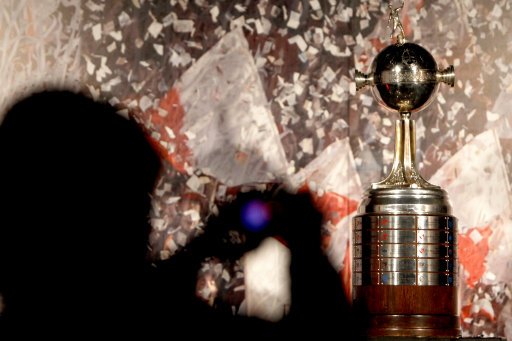 Watching the Copa this week I noticed a few things that we do differently here in Europe. The first thing that struck me during the Libertad (PAR) vs Univ. San Martin (PER) was the atmosphere. Perhaps the most impressive thing was the setting off of fireworks from the stands. This did not occur until later in the game when Libertad where 4-1 up. It was something I had never seen at a game before, but I loved it. It happened elsewhere too, it seemed to exemplify the passion of the fans and create such a mood in stadia that are much more sprawling than we are used to here. The atmosphere rubbed off on the players.
The games I saw this week were played at a pretty frenetic pace from the start. As soon as one side got the ball they were moving forward straight away, looking to build an attack. It made for very exciting games, even if they weren't full of goals.
The best example of this is the Penarol (URU) vs LDU Quito (ECU) match. From the opening whistle Penarol were going for it. They had the better game by far, limiting LDU to the odd counter attack. They were really impressive down the right hand side with Jonathan Urretaviscaya, on loan from Benfica. He no doubt has a very bright future ahead of him at only 20 years old. Continually breaking down the right flank with great pace, playing quick, pass and move football. He did spurn a superb chance however, but even that could not take the shine off his game.
Patience is a virtue adopted far more in the European game. European teams will gladly keep possession and wait for an opening from grinding their opponent down. This was not as common in this weeks Libertadores. This is not a jab at the style, I thoroughly enjoyed the games, more than watching a dull, defensive Italian game. This may differ in their South American domestic leagues as there is less at stake. This was not evident in the Godoy Cruz vs Colon game in the Argentinian League just over a week ago. I do not mean to generalise the leagues here.
Watching the Copa is a very different experience to the Champions League. The pace is different as I have mentioned, but there is arguably more quality in the European game.This is down to the fact that the best players in the Copa will look to move across to Europe to play at a higher standard. The Champions League is where the worlds best players want to be. There are some that may not make it but are still excellent players, others that had a spell in Europe but it did not work out for them, such as Mario Bolatti, formerly of Fiorentina, now at Internacional.
One of the big pluses of the Copa Libertadores is the stage it offers for young players to make their name in the game. Many of the top South American talents in Europe would have played at this level when just starting out in their career. It is perfect for them to develop on a bigger stage, with more pressure, that can prepare them for a possible move onto bigger competitions. If it was not for the Copa then maybe the young exciting talents we see move to Europe would be as confident and accustomed to the biggest of games, that is not so often given to European youngsters.
The Copa for these reasons has a much more raw feeling than the Champions League. New, emerging talent that have not yet fully developed their game, but will take on anyone, and are constantly hungry for the win. Anyone can beat anyone in the Copa. Smaller teams like Emelec of Ecuador, managed to get themselves a draw against reigning champions Internacional this year. This is something that is not so frequent in the Champions League.
I do not think there is enough scope for South American and European teams to face each other. The Club World Cup offers a minimal amount of games for this but is not nearly enough. There is also the odd pre-season tournament that clubs use for publicity but these are not competitive enough. I would like to see a tournament that brings all the best teams together in a competitive atmosphere. Perhaps introducing a winter break for all leagues, moving international tournaments such as the Asian Cup and African Nations to summer, and composing a purely knock-out intercontinental competition. I know the actual implications would mean that it will probably never happen, due to transport, differing seasons and climes, as well as the fact that not all leagues run from August to May.
It was also in the Penarol game that I noticed the referee's use of a spray foam to show where free kicks should be taken from. He also used it to mark where the wall should go and it stopped the encroaching. I thought this was a quick and inventive way of solving this problem, not that it is overly frequent anyway. Something we would not want to take across is the squeezing of the male anatomy that was present in this game.Vinnie Jones would have been proud. It was used for celebrating by Luis Aguiar (on himself) and for 'tackling' (pardon the pun) by Dario Rodriguez.
Goal of the week goes to Sergio Herrera of Depotivo Tachira for his strike in their 1-1 draw with Cerro Porteno. A nice few little touches to take it past the defenders then a beautifully placed shot into the top corner. Roberto Nanni, formerly of Dinamo Kiev, kept on top of the Goal Scoring charts with his 5th of the tournament in the same match.
The two competitions are very different. The atmosphere and style of play in South America provides a raw, exciting feel to the games. Whereas in Europe there is often a more conservative, patient style of play that are changed with moments of pure brilliance. This is not to say that games in Europe can never be raw and exciting, nor that games in the Copa are never patient or conservative. On the whole there is more quality in Europe, as it is where all the best want to be. The Copa is still fantastic for watching quality players emerge and come into their own, as well as decent players who could not quite make it, or have returned to the continent. I just wished there was more opportunities for club teams across the globe to face each other in a competitive atmosphere.