Bernabeu hero is happy with the manager and wants to stay at the club despite interest from Old Trafford and Stamford Bridge.
Premier League Tickets Available from Tixdaq.com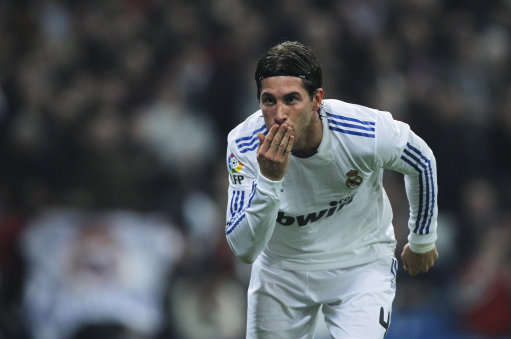 Real Madrid defender Sergio Ramos has dismissed talk linking him with a move away from the Bernabeu after a bust-up with manager Jose Mourinho.
Ramos joined Madrid in 2005 from Sevilla for £23million but contract extension negotiations have stalled.
The 24-year-old has been the subject of interest from a number of Premier League clubs, most notably Manchester United and Chelsea.
But the Spanish World Cup winner insists he is happy at the club and is excited to be working under Mourinho.
"I've been here for seven years and I've absorbed the values of this great club by playing alongside legends like Zizou [Zinedine Zidane] and Raul," Ramos told Fifa.com.
"As for the future, you can never say what's going to happen in football, although I am happy here. I'm very grateful to Sevilla and Madrid for having moulded me as a player and a person.
"What more can I ask for than to be with the best club in the world, in a fantastic city and with my family close by? I love it here and if they offer to renew my contract for life, I'd jump at the chance.
"He (Mourinho) brought a lot of balance and organisation on the pitch and in and around the dressing room. He knows how to handle things and not burn the players out," he added.
"He's very honest and direct with you too and that makes people excited about coming to work.
"He also knows how to get the best out of each player and he has a lot of character and always sticks up for us, which is greatly appreciated in the dressing room.
"It's important for a coach and his players to have a good relationship because that shows on the pitch. We couldn't be happier with him."