Mexican striker continues to make an impact in his first season at Old Trafford.
Premier League Tickets Available from Tixdaq.com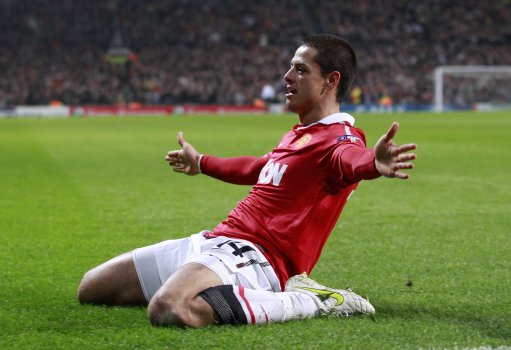 When young Mexican international Javier Hernandez secured a deal to make the huge jump from Guadalajara to Manchester back in April of last year, there could have been few who would have expected such a swift and seamless a transition into Premier League life and indeed Sir Alex Ferguson must have been pleasantly surprised at just how immediate an impact the instinctive striker has made.
Even after Manchester United signed the baby faced goal getter who now goes by the more familiar nickname 'Chicharito' supporters and pundits alike would only really have come to know of the striker when he netted against France in the 2010 World Cup and from then on the son of a Mexican international has made it his goal to not waste his chance at stardom.
It seems quite likely that originally it would have been Ferguson's plan to bed Hernandez in for a period, perhaps even send him out on loan for an education into English football, before unleashing his predatory abilities on unsuspecting defences. Chicharito, it seems, had other ideas.
A series of impressive pre-season performances belied the fact he had barely had a break since his World Cup exertions and when given the chance to announce his arrival on the big stage at the FA Community Shield encounter against Chelsea, Javier was not going to be overawed by the media throng, the millions of watching television viewers and the 80,000 plus expectant supporters. He netted and officially arrived on the scene.
Hernandez is always going to be the type of player that supporters will root for. His tireless running and speed of thought, coupled with his very obvious love of the game make him the type of player who gets supporters to their feet in appreciation.
The pint sized dynamo is also blessed with that almost unteachable trait of making the game look so very easy. Finding himself in the right place at the right time, in a similar manner to a Michael Owen in his pomp, Hernandez finds himself able to finish off moves having gambled correctly on whether to place himself in front or behind the defender.
With 16 goals to his name in a season that has included just 17 starts, there can be no doubting just how much potential Chicharito possesses, so much so that Sir Alex will have the type of selection headaches that all managers would like to incur. Indeed his ability to make an impact on the game has meant that the Premier League's top scorer Dimitar Berbatov is left warming the bench, and whilst some may feel that it should be Wayne Rooney who is ousted by the Mexican, it does seem that as a strike pairing, it is the England international who best complements the explosive quality Javier Hernandez undoubtedly has by the bucketload.
The languid style of the Bulgarian is not such an obvious fit when placed alongside the boy from Guadalajara and this has left Ferguson having to mix and match to keep all concerned happy with their lot. The fee paid to land Hernandez remains something of a relatively inexpensive mystery and included the promise of a visit from Manchester United to take part in a money spinning friendly last summer but such is the success of the purchase that Sir Alex Ferguson may have secured a bargain signing that was worth 50 more visits to take on the Chivas in gratitude.