Roberto Mancini to go Samba Star crazy!
Premier League Tickets Available from Tixdaq.com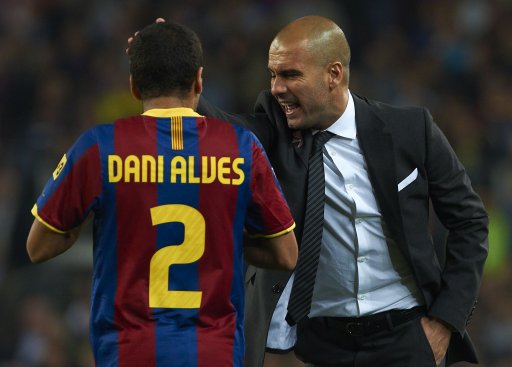 Manchester City are reportedly looking at buying Brazilian international defender Dani Alves in the summer transfer period, to accompany their purchase of Kaka worth an estimated combined £90 million.
Alves had been discussing a new contract with La Liga giants Barcelona, however talks have since broken down, with the 27 year old looking to England for a new deal.
"I don't feel the club have been doing their utmost to renew my contract, but that's just a feeling I have," Alves told Spanish newspaper Sport.
"I want an agreement to be reached within a few days.
"I'm as committed to the club as anyone in the squad. I won't be a hypocrite though. If the club want to replace me it could cost them dear."
In the biggest indication that Alves is looking elsewhere for a deal, he said, "what I want is for the club to value me depending on my importance and influence within the squad. If they do that, I'll be over the moon and if not, thanks for these years at the club."
Kaka has also been looking at going to Manchester City in the summer, which will certainly make fellow Brazilian Alves feel much more at home at the club.
SOURCE: Give Me Football – Official PFA Website
Man City don't often need encouragement to spend money and I would say that both these signings would be of great use to the Eastlands outfit but I don't see that either will actually occur. Daniel Alves is currently haggling over a new deal at the Nou Camp and for his bluster I don't see the former Sevilla man leaving, after all, would you leave Barcelona at the moment?
It seems that the talented full back may well be using interest in his services to help secure the deal he is after and no doubt a deal will be thrashed out as clearly Pep Guardiola values the Brazilian international. As for Kaka, whilst it could be that the former AC Milan man may not be a player Jose Mourinho appears to need it seems far more likely he may move back to the San Siro where apparently he will be welcomed back just as long as he tones done his wage demands, something the multi millionaire may well be willing to do to secure a move back to the Rossoneri.
Roberto Mancini's transfer requests may of course be dicatated by Man City's Premier League finish. Indeed if the mega rich club fail to secure a top four finish then the Italian himself may be axed and then the whole squad rebuilding occurs all over again.