Eastlands boss looking to offload troubled Italian in return for Swedish goal machine.
Premier League Tickets Available from Tixdaq.com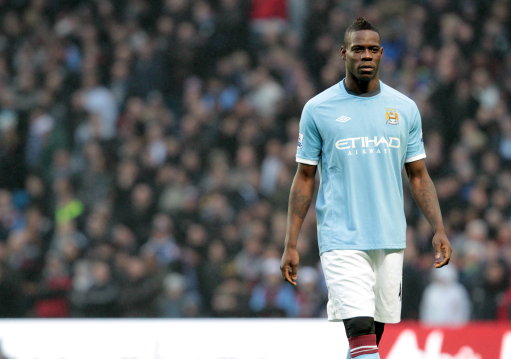 Mario Balotelli 'to be swapped for Zlatan Ibrahimovic in AC Milan switch'
Manchester City manager Roberto Mancini is understood to be in advanced talks with AC Milan bosses over a deal to bring Zlatan Ibrahimovic to Eastlands in exchange for bad-boy striker Mario Balotelli.
Mancini's patience seems to have finally run out with Balotelli after his latest sending off in City's Europa League second-leg match with Dynamo Kiev.
Although Manchester City won the match 1-0 they bowed out of the competition 2-1 on aggregate and the Italian's red card is being blamed for the loss.
Going down to ten men after just 36 minutes, City were put in an impossible position to turn things around even after Alexsander Kolarov found the back of the net.
The behavior of Balotelli has been branded by some players as 'unforgivable' and fellow City player Nigel de Jong says the 20-year-old would now be targeted as a 'marked man' in future matches.
'He has got to realise he has to change how he plays because he is always going to be a marked man. He knows that,' the Dutchman said.
'Tomorrow is a new day and I am sure we are going to sit down with Mario.'
A move to the Rossoneri would be a dream come true for Balotelli after he supported them as a young child growing up in Italy, and Ibrahimovic's sudden fall from grace at the San Siro leaves the door open for a swap.
Italian newspapers have been critical of the powerful Swedish forward ever since AC Milan lost to Tottenham in the last-16 of the Champions League.
Ibrahimovic moved from Inter to rivals AC Milan for £20million, however the deal was drawn up around an initial one-year loan, due to expire at the end of the season, followed by a permanent acquisition.
SOURCE: Metro
One wonders how this deal would be struck but nonetheless The Metro believes it a distinct possibility that Manchester City could use troubled striker Mario Balotelli to land £24m rated AC Milan striker Zlatan Ibrahimovic, a player that Eastlands boss Roberto Mancini knows very well indeed from his spell as Inter boss.
Young Italian striker Balotelli has had a tough time of it this season, finding the back of the net one week and sent off the next, and it appears that Mancini may be running out of patience with a player who clearly has some issues.
29 year old Zlatan Ibrahimovic has had a good season at the San Siro 19 goals in all competitions and helping Massimiliano Allegri's side to the top of Serie A. Would he then opt to swap a possible permanent deal to stay at AC in order to move to Manchester City? Also, if he did how would he fit in with the strikers already at the club?
Carlos Tevez and Edin Dzeko appear to be the club's first choice starters so how would the Swedish international fit into the picture? There does however appear to be some truth in the assertion that Balotelli would like to play for his boyhood favourites AC Milan but would they really be willing to take a chance with a player who is seemingly uncontrollable?