Anfield skipper to return to full training next week and could play at the Hawthorns.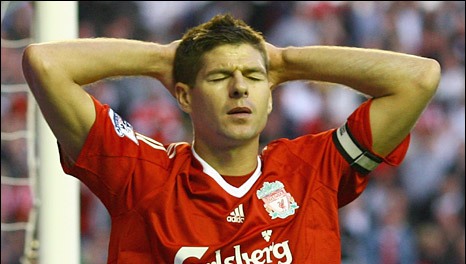 Liverpool players Steven Gerrard, Martin Kelly, Jonjo Shelvey and Fabio Aurelio will all return to full training next week, according to the first-team coach Steve Clarke.
Captain Gerrard has been sidelined for three games following groin surgery and will be a major boost for the Reds who are chasing Tottenham for the fifth place in the Premier League.
Kelly and Aurelio (hamstring) have been out for a month, while Shelvey (knee) has been in out since early February.
Clarke says they will be back in training next week and is optimistic about playing in the next league game, away to West Bromwich Albion.
"They're all improving," Clarke told the club's website.
"Fingers crossed, we will have Martin Kelly and Steven Gerrard back training by the middle of next week. We hope the same for Jonjo Shelvey, who has been out for a long time.
"Fabio Aurelio is also making good progress.
"They're our four longer-term injuries, the ones that have been causing us a bit of concern recently, but hopefully they'll all join in training next week."