Eastlands star hails the new Emirates hero but will fight for a starting place at the Millennium Stadium.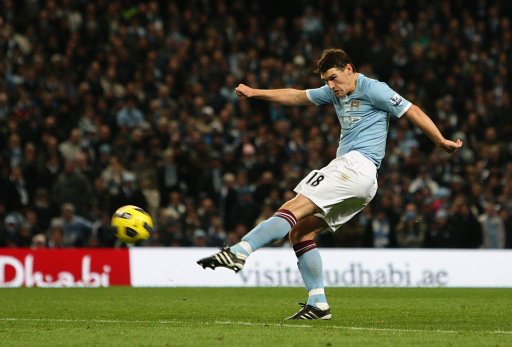 Manchester City midfielder Gareth Barry insists the emergence of Jack Wilshere as a world-class talent is beneficial for England.
Wislhere has become a key figure in the Arsenal team this season after dominating performances against Barcelona in the Champions League.
The 19-year-old will hope to add a third England cap to his collection against Wales in a Euro 2012 qualifier at the Millennium Stadium on Saturday.
Barry's place has now come under-threat with the teenager's place in the starting line up almost secure.
The Blues' star, like the other midfielders in the squad, will fight to keep hold of his shirt but is happy that Wilshere is on his team.
"There is a good chance that Jack could be involved [against Wales], the way he has been playing" said Barry.
"The more he has played this year, the more his performances have grown and his confidence has grown. In the games I have seen him play, he has been putting in some great performances.
"You always want to play alongside the best players and at the minute Jack is playing very well.
"Hopefully there will be a chance I can play alongside him, but there are four central midfielders vying for their places. Scotty [Parker], Frank [Lampard] and Jack are all playing well, so the manager has got good choices."
"I think all four of us are slightly different players," he added.
"The manager has good options when it comes to central midfield and if he wants to change it, the players are there for him to do that.
"I have never come to an England squad, or started training and expected to be in the team and I sit here today still the same.
"Obviously when players like Jack burst onto the scene, and the way they are playing, it's extra competition and it makes selection for individuals tougher.
"I am still training hard and hopeful to be selected. I am confident that if I am, then I can put in a good performance for my country.
"It's good for the country that the likes of Jack are bursting through, it makes it tougher for individuals to get a place."