Eastlands star sets sights on winning trophies and toppling Old Trafford rivals.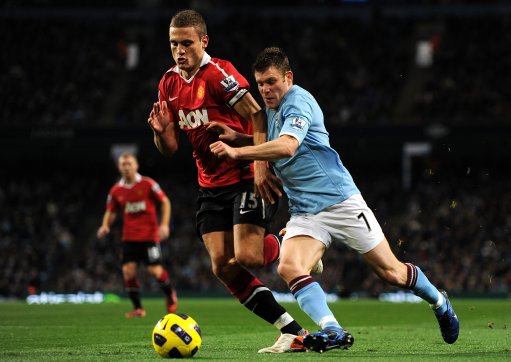 Manchester City midfielder James Milner insists his team are still a work in progress but will soon overtake local rivals Manchester United.
The 25-year-old joined the Blues last summer after a £26million move from Aston Villa.
The England international was not the only new acquisition at the club as the club's Abu Dhabi owners have spent around £380million on player transfers in two years.
While City are on course to make next season's Champions League, the club were knocked out of the Europa League and have fallen out of the Premier League title race over recent weeks.
Their only realistic chance of silverware is the FA Cup, and they face neighbours United at Wembley on April 16.
But Milner is confident his team will soon be challenging  for all the coveted prizes in English football.
"No team has been on fire this season," he said.
"Chelsea
had a great start, then struggled. Manchester United
have somehow kept winning games without playing well.
"We have to get that mentality.It is going to take time. There have been so many changes.
"You have to get that bond and learn how to play with each other. We have played well in spells but not in others.
"However, we have the biggest scope to improve out of any team in the league. I think we will do that and continue to get better."