Eastlands contract terminated.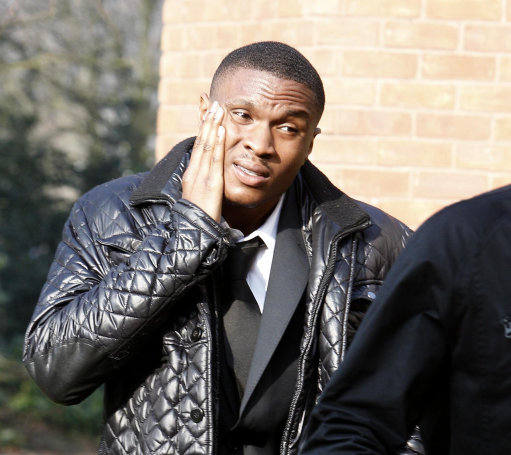 A Manchester City footballer has been jailed for a fight in the street which left a man with a broken jaw.
Striker Kelvin Etuhu, 22, previously admitted assault occasioning actual bodily harm and affray.
He was caught on CCTV kicking Owen Fitzpatrick three times after knocking him to the ground with a punch outside Manchester's 235 Casino last February.
Etuhu, of Abbeycroft Close, Astley, Wigan, was sentenced to eight months in prison at Warrington Crown Court.
In sentencing, Judge Hale told Etuhu: "You brought yourself up by your bootstraps, you and your family, having come here from Nigeria with nothing but your talent, grit and determination.
"That is a great credit to you and your family and you have blown it."
The footballer is the younger brother of Dickson Etuhu, who plays for Fulham.
Peter Cadwallader, for the prosecution, told the court the violence started from a "very minor" dispute inside the casino which ended when Mr Fitzpatrick, 24, and two friends were asked to leave the venue.
The three men then waited outside for Etuhu and his friend Rico Richards, 27, to emerge.
The court heard the three men confronted Etuhu as he got into his BMW car, which Richards was driving.
Etuhu finally got out of the car and launched the attack.
The court heard how the player felled Mr Fitzpatrick with a single punch and, when he was on the ground, kicked him three times and inflicted the broken jaw.
SOURCE: BBC Sport
This is of course not the first time a footballer has been convicted of a serious assault but the report of the incident seems to suggest that Etuhu was provoked a great deal. Indeed the reports states that it was the other group of individuals who were asked to leave the Casino, and it was they who waited for the Man City man to exit the building who then confronted Mr Etuhu and his friend, clearly the 22 year old then went on the attack and whilst it clearly is wrong to repeatedly punch someone it does seem there were some mitigating circumstances.