Emirates star claims the title is heading back to North London despite frustrations.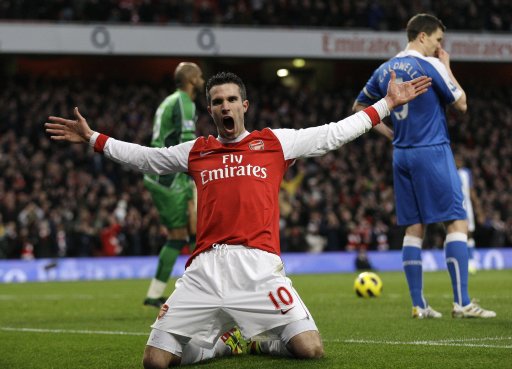 Arsenal striker Robin van Persie admits at times this season his team has not been good enough but maintains the Gunners will win the Premier League.
The North Londoners have been knocked out of three competitions in as many weeks and have not won any silverware since the FA Cup in 2005.
But the 27-year-old says the trophy drought is not putting him under anymore pressure and knows the chance of winning the league for the first time in seven years is in Arsenal's hands.
"Winning trophies is a big thing for me," he said. "It is very frustrating but it's not in my head all the time.
"It might influence other players but, for me, it's not an obsession. I did win prizes in my career, I know how to do it.
"It's about keeping focus, about just playing your game. If you keep playing your game, you'll get rewarded some time.
"The Carling Cup final [defeat to Birmingham City] was really frustrating and it did influence our game in the weeks after.
"The game was bizarre … it really showed that every game has its own story. But I still strongly believe in our title chances.
"We always do our best at Arsenal and always want to win," he added.
"On a number of occasions we have been very close but, at the last moment, it's often not good enough. That's the reality. It's very frustrating when you lose, especially as a team when we're so close.
"But we have to look forward and now it's up to us to change all that. I firmly believe in the team, Arsenal and myself and I'm positive we will win prizes."