Wembley boss praises Emirates star but Anfield hero will not play whole game at the Millennium Stadium.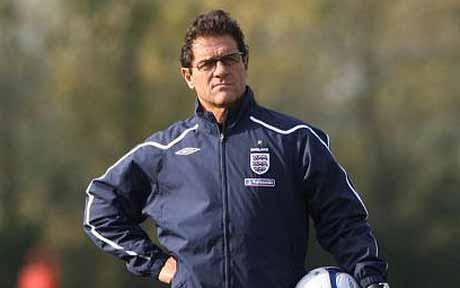 Fabio Capello was full of praise for Arsenal's Jack Wilshere, hinting he will start against Wales tomorrow, but admitted Andy Carroll is not fit enough to last the whole game.
The 19-year-old will win his third England cap in the Euro 2012 qualifier at the Millennium Stadium.
Capello complimented the teenager's progress this year, citing his impressive performances against Barcelona in the Champions League, and suggested he is a future England captain.
While the Gunners midfield player will start, it is still unclear whether Liverpool striker Carroll will start on the bench or only play an hour.
"He (Wilshere) is a young player who has improved a lot in a short time. He was an interesting player, when he played his first game with us he was good, but young.
"Now he is playing like a player who has played a lot of games, like a 28 or 29-year-old. He plays the game fantastically with personality and without fear.
"It's not easy to find players like him who play without fear in places like the Nou Camp.
"I spoke with Arsene (Wenger) and he told him he was also surprised by how he had improved so much in so short a time."
"But I think he is a really good player, to be a captain you need to be a leader and I think Wilshere will be captain in a really short time."
"I have monitored Andy Carroll in the games that he has played and I went to see him personally," he added.
"He is not at the level that he played before he got injured, he is not fit to play for 90 minutes."