Old Trafford keen on young Belgian with penchant for red cards.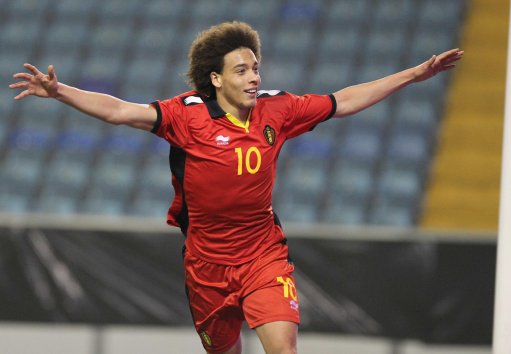 Manchester United target Axel Witsel will leave Standard Liege this summer after telling the club he wants to go.
The combative midfielder – who once copped an eight-match ban for a horror lunge that broke a player's ankle – has been at Liege for five years.
And Witsel, 22, has told club officials he intends to leave in the summer, sparking a Europe-wide fight for his signature.
Witsel snapped the ankle of Anderlecht's Marcin Wasilewski in 2009 and received death threats over the x-rated tackle.
The feisty midfielder has since gone on to become one of the most sought after players in the Belgian league, but Witsel wants out of Liege and a move to a major European club.
Manchester United have monitored Witsel before – as well as Liege team-mate Steven Defour – while Chelsea have also scouted the midfielder in the past. And Liege are preparing for life without him following talks at the club last week.
SOURCE: talkSPORT
Axel Witsel is indeed a talented up and coming midfielder with a great deal to offer but his career has become more well known for his shocking challenges rather than his ability to break up opposition attacks he is known for breaking legs. There was of course the very famous incident from 2009 when he put in an x-rated tackle on Marcin Wasilewski, the kind of which would make the likes of Nigel De Jong wince, but that isn't the only time Witsel has pulled off a shocking tackle.
The 22 year old has a history of such incidents, in April 2009 he deliberately kicked an opponent whilst on international duty and was banned for four games and then six months later was the infamous leg break challenge against Anderlecht. Last December he received another red card for a deliberate stamp on a Cercle Brugge player after which he bizarrely blew kisses to the opposition supporters on his way off the pitch.
In some ways Witsel if more like a Paul Scholes as he does drive forward and scores his fair share of goals but it is thought that Sir Alex Ferguson's interest relates to his apparent need to add more steel to his midfield. Owen Hargreaves is unlikely to be offered a new contract in the summer and the likes of Darren Fletcher, Michael Carrick and Anderson offer various attributes but none of the trio are strictly defensively minded.
Paul Scholes himself is clearly a less advanced player than he was in his pomp and much speculation suggests that Ferguson is ready to bring in midfield reinforcements, but would he really make a move for this bruiser?