Wembley boss defends captaincy switch but blames former skipper for not meeting him at Old Trafford.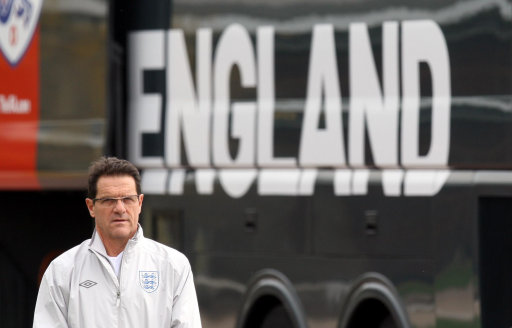 England manager blames Rio Ferdinand for the pair failing to discuss the decision to strip the Manchester United defender of the captaincy and give it to John Terry.
Terry was given the armband ahead of the Euro 2012 qualifier against Wales after doubts have arisen over Ferdinand's long-term fitness.
Terry was axed as captain by Capello a year ago following an alleged affair with the ex-girlfriend of former team-mate Wayne Bridge.
Capello was expected to talk with Ferdinand before the re-appointment was confirmed to reveal his reasons for the decision but the meeting failed to happen.
Ferdinand is said to be very unhappy about the way the matter was handled but the Italian says it is the 32-year-old's fault for not seeing him at Old Trafford.
Capello also reveals the reason why he decided now was the time to hand the armband back to Chelsea's Terry.
Asked why the pair did not meet, he said: "This is a question for him, not for me. I was in the director's box.
"I tried to meet him (Ferdinand) when Manchester United played against Marseille but he told me no.
"I can understand everything, but I need to make decisions. I think I will be happy and will meet him in the future."
"Something happened in my mind when I saw the armband being passed around during our game in Copenhagen," he added.
"We changed it in the second half and it was unfair for John Terry to see this.
"I thought that it was time for John Terry, after punishment, to return and be captain.
"I know that Rio Ferdinand and Steven Gerrard are not fit. I knew it was the moment, with one game which is so important, to have one captain like John Terry.
"I spoke with the players and personally with some players, and I spoke with the squad before I decided that John Terry will be the captain, and all the players were happy because John Terry was always a very important leader on the pitch and to the team."