Anfield the likely destination over Stamford Bridge for Wigan youngster.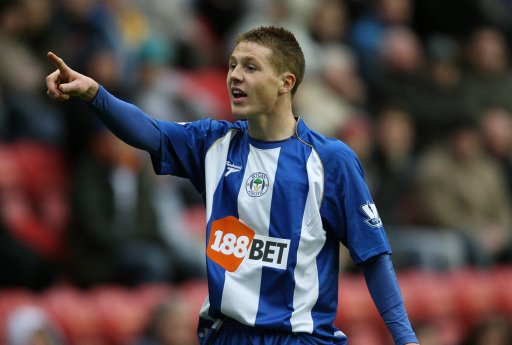 Liverpool boss Kenny Dalglish wants to beat Chelsea to the signing of Wigan star James McCarthy – the one who got away from Anfield.
Dalglish is determined to land Glasgow-born Ireland starlet McCarthy as part of a major summer overhaul.
And the legendary manager thinks that he can persuade McCarthy to pick Merseyside ahead of London for his next move, which looks increasingly likecoming at the end of the season.
Chelsea wanted to land McCarthy in January and are still in the chase for him – although the exit of director of football Frank Arnesen leaves a ­question mark over their desperation for him.
Now Dalglish, poised to get theLiverpool job full-time, has decided to home in on McCarthy who was set to sign for former boss Rafa Benitez as a kid but opted to stay with Hamilton Accies.
McCarthy has already been to Liverpool's HQ and played in a training game – when he was just 16 – and Benitez was keen to take him only for the top prospect to decide that first-team football with Hamilton was better.
Dalglish does not want to miss out on McCarthy again and thinks he would be ideal for a new-look squad that would also include fellow Scot Charlie Adam from Blackpool. McCarthy signed for Wigan and has proved himself to be one of the best young all-round midfielders in the top flight. Chelsea are willing to pay up to £7million for him.
Liverpool will match and ­possibly better that if Dalglish gets the money to invest.
And he hopes the quiet lad will prefer to stay in the area rather than be drawn to the capital.
SOURCE: Express
James McCarthy first found himself on the football map when he broke on to the scene at Hamilton aged just 15 and indeed when he made his move to the Premier League in 2009 many had expected the Irish international midfielder to join one of the bigger clubs in the top tier but perhaps wisely the Glasgow born youngster opted for a move to the DW Stadium where he could get a fair bit of first team action but now it appears that a move may be on the cards.
Roberto Martinez faces a fight to keep the 20 year old, a fight that will become even more difficult if the Latics do not beat the drop and this source believes the fairly short move from Wigan to Merseyside may be the most likely one for the talented youngster.
Although McCarthy won't turn 21 until November he already has over 150 appearances to his name and Kenny Dalglish in very much interested in signing the Wigan man as he looks to bring in top quality youthful options to complement the more experienced side of his squad.
Given the good form shown by the likes of Lucas and Raul Meireles as well as the mercurial skipper Steven Gerrard, it may prove problematic for McCarthy to earn himself a starting spot at Anfield but such is the upward trajectory of his career that he may well now feel he is able to take on all comers.
Chelsea's interest will also be hard to ignore and Carlo Ancelotti is keen to bring in some younger players with a number of his Stamford Bridge squad getting on a bit. There has been a lot of talk about the potential exit of the likes of Florent Malouda, Didier Drogba, Nicolas Anelka and bit part players Paulo Ferreira and Jose Bosingwa and having already spent big on the likes of Fernando Torres and David Luiz there is clearly no qualms about meeting the £7m valuation.