Will Roberto Mancini be at Eastlands long enough to spend the money?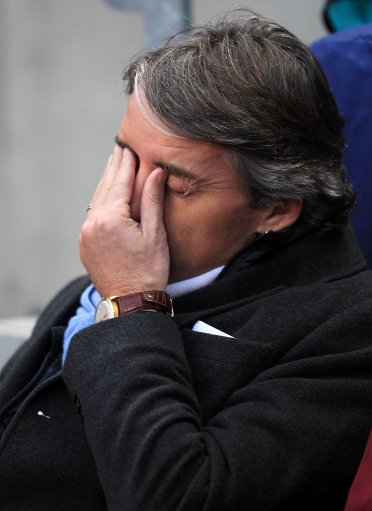 ROBERTO MANCINI has asked Man City owner Sheikh Mansour to bankroll a £100m summer spree to sign AC Milan hitman Zlatan Ibrahimovic and Napoli striker Edinson Cavani.
The Manchester City boss wants Sheikh Mansour to provide more transfer funds – even though the club owner has already spent £400million on players since the Abu Dhabi United Group takeover at Eastlands two-and-a-half years ago.
Former City boss Mark Hughes started the spending spree – and Mancini has continued it in spectacular style. But he still isn't satisfied with his squad and is likely to want up to another £100m, depending on whether players like Carlos Tevez and Mario Balotelli stay at City in the summer.
AC Milan striker Zlatan Ibrahimovic, 29, will be a target as part of an exchange deal if Balotelli, 20, pushes for a quick return to Italy. The arrival of target-man Ibrahimovic would place a question mark against the future of Edin Dzeko, 25,who only arrived at City in January for £27m from Wolfsburg.
Dzeko is a similar player but has failed to impress. Mancini is also keen on £30m-rated Napoli striker Edinson Cavani, who is being tracked by Chelsea. The Uruguay hitman, 24, could be a replacement for Tevez if the Argie striker renews his attempt to leave City, having done a U-turn after asking for a transfer before Christmas.
SOURCE: Daily Star
Clearly the chances of the Eastlands club looking to re-jig their front line will increase if Roberto Mancini fails to capture a top four spot, which could lead to Carlos Tevez and perhaps Mario Balotelli pushing for a move away from Man City.
One wonders however how this pairing could cost £100m? Zlatan Ibrahimovic at age 29 is not worth over £40m so not sure how the Daily Star came to that figure, perhaps they have a rounding up machine that helps make headlines appear more enticing?
Seriously though, Man City need to work out how best to resolve the issue of sacking managers and re-investing in new players every time a new boss comes in to the club. If Roberto Mancini does fail to land a top four spot it is very possible the Italian will be sacked, which would be a mistake as it would mean having to spend another fortune funding the next manager's attempt to finance fantasy football.