Emirates forward wants to spend time with his family but may be forced to represent his country on home soil.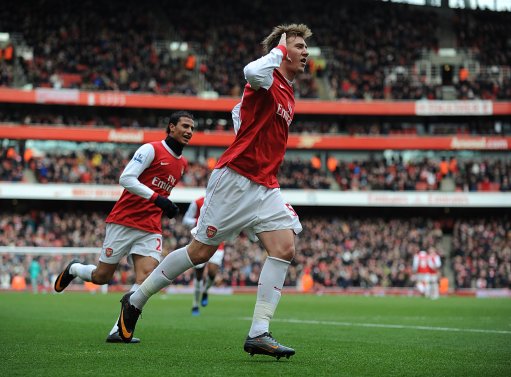 Arsenal striker Nicklas Bendtner is facing pressure from the Danish Football Association to represent his country at the U21 European Championship this summer.
Just like Gunner team-mate Jack Wilshere, the 23-year-old is an established member of the senior side but can still play for the juniors.
And with the tournament being played on Danish soil, the pressure is even more intense.
No decision has yet been made but Bendtner is conscious of wanting to spend time with his family, and inparticluar his son.
"I have not made a decision and do not know how it will happen," Bendtner told Ekstra Bladet. "It is urgent not because there are more than two months for the finals.
"I want to have one month of quality time with my family and not settle for a much shorter vacation.
"We also have two children attending school. And they cannot just go to Denmark, so the family can be together."
The situation is a major headache for manager Arsene Wenger who wants his stars to have a complete rest following the exertions of this season.
He feels the youngsters need a summer to recover before next season, knowing they will be selected for the senior European Championships in 2012.
The Frenchman cites Theo Walcott who played in the U21 Euro 2009 tournament, had an injury-hit season, then was dropped from the World Cup squad.