Vote on Arsene Wenger's all-time greatest ever players to have graced the fields of Highbury and the Emirates.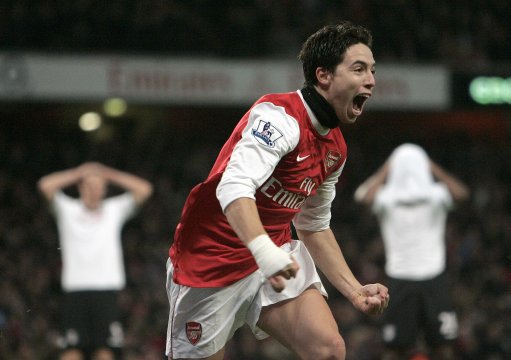 Since Arsene Wenger became Arsenal manager in 1996 he has revolutionised the club.
From playing style to dietary requirements he has forever stamped his impression over the club.
Gone are the George Graham 'boring, boring Arsenal' days and fans are now treated to free-flowing, sumptuous football all in the pleasure of the best stadium in the Premier League.
Wenger was instrumental in the building of the stadium too as he has been in picking the team that plays his style of football – the Arsenal way.
But here at COS we feel he may need some assistance in deciding who his all-time greatest side would be – and that is where you guys come in.
Over the next few days, you can vote for the best player in each position and we will reveal the team when all the votes are in.
In this episode we look at right-wingers, so stay tuned and the only way to make sure your choice is selected is to vote on the poll to the right of your screen.
Paul Merson –
Ok so the funniest pundit at Sky Sports only played a season under Wenger but the man is a Gunners legend. He battled his demons off the pitch and played like one on it. He was a key figure in the George Graham days and in total played 423 games scoring 99 times.
Ray Parlour –
Another player who was a Gunner before Wenger arrived but blossomed under the Frenchman's tutorial. He played a key role in the double winning team of '98 (man of the match in the FA Cup final) and in 2002. No one will forget his stunning 30-yard strike in the FA Cup win over Chelsea. True hero.
Freddie Ljungberg –
Scoring on your debut against Manchester United is a sure way to become a fan faourite, and that is what he did. He then died his hair red, spawning the chant: "We love you Freddie, because you've got red hair, we love you Freddie because you're everywhere, we love you Freddie, you're Arsenal through and through". Great footballer too.
Samir Nasri –
He came to Arsenal as the 'next Zidane' and Gunners fans see why. His mazy dribbles and frighteningly fast acceleration has come to the fore this season earning him calls for player of the season. has scored many memorable goals too – double against Manchestwr United and his dribble against FC Porto.
Theo Walcott –
Signed as a 17-year-old and had to grow and learn under enormous pressure. Maybe it is a little early for him to be on this list but he has shown what he is capable of. The run in the Champions League quarter-final aginst Liverpool to set up Adebayor was breathtaking. Already a Gunners hero, a legend in-waiting.
Arsene Wenger & Arsenal Search For Best XI: Goalkeeper
Arsene Wenger & Arsenal Search For Best XI: Right-Back
Arsene Wenger & Arsenal Search For Best XI: Left-Back
Arsene Wenger & Arsenal Search For Best XI: Centre-Back
Arsene Wenger & Arsenal Search For Best XI: Left-Wing