Vote on Arsene Wenger's all-time greatest ever players to have graced the fields of Highbury and the Emirates.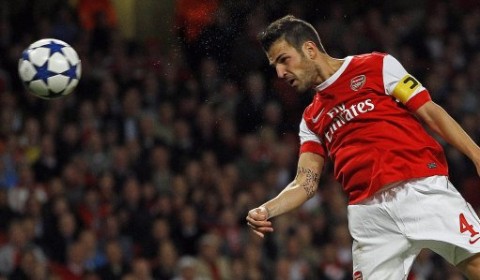 Since Arsene Wenger became Arsenal manager in 1996 he has revolutionised the club.
From playing style to dietary requirements he has forever stamped his impression over the club.
Gone are the George Graham 'boring, boring Arsenal' days and fans are now treated to free-flowing, sumptuous football all in the pleasure of the best stadium in the Premier League.
Wenger was instrumental in the building of the stadium too as he has been in picking the team that plays his style of football – the Arsenal way.
But here at COS we feel he may need some assistance in deciding who his all-time greatest side would be – and that is where you guys come in.
Over the next few days, you can vote for the best player in each position and we will reveal the team when all the votes are in.
In this episode we look at centre-midfielders, so stay tuned and the only way to make sure your choice is selected is to vote on the Poll to the right of your screen.
David Platt –
Arsenal may not have seen the best of Platt but he was still a key figure in the double-winning dressing room of 1998. Any Gunner, and probably Manchester United fan, will remember his winning 93rd minute header against the Red Devils and prove Arsenal could win the Premier League.
Patrick Vieira –
The first signing, and possibly the best, of Wenger's era at £3.5m. Height, stamina and physical strength mixed with his composure and passing quality cemented him in Wenger's stylish attacking side. Legendary fights with Roy Keane and his final touch in an Arsenal shirt was to win the FA Cup. Captain Invincible!
Emmanuel Petit –
Wenger worked with Petit at Monaco but switched him from defence to a holding midfielder and partnered him with Vieira. The French duo formed a midfield partnership which brought instant success, as Petit won the Double with Arsenal in his very first season.
Gilberto Silva –
Nicknamed the 'Invisible Wall', Gilberto would dominate midfield allowing players around him the freedom to express themselves. Played a huge role in the 2004 Invincible team and even scored the first competitive goal in the Emirates Stadium. Unsung hero.
Cesc Fabregas –
The boy from Barcelona who replaced the great Vieira. Sublime passing, Catalan-esque pressing, unrivalled vision, determined passion, born winner are only a few of his many attributes. World Cup and European Championship winner before he is 23. Technically one of the greatest Arsenal players ever.
Alex Song –
This is the reason Arsenal are now not considered lightweight and deserve to be considered title contenders. Alex 'We've only got one' Song has developed into a ball-playing midfielder of w0rld class ability. Has been one of Arsenal's most consistent performers in recent years. No one else can play in his role in the squad.
Jack Wilshere –
Known for his passing, dribbling, vision, movement and combination play but knows how to take a tackle (and give one too!) Has been likened to Paul Scholes and Xavi – not bad eh? – and is only 19-years-old. Is good enough already to be on this list on talent alone. Wenger has discovered another gem.
Arsene Wenger & Arsenal Search For Best XI: Goalkeeper
Arsene Wenger & Arsenal Search For Best XI: Right-Back
Arsene Wenger & Arsenal Search For Best XI: Left-Back
Arsene Wenger & Arsenal Search For Best XI: Centre-Back
Arsene Wenger & Arsenal Search For Best XI: Left-Wing