Anfield boss keen on Eastlands bench warmer.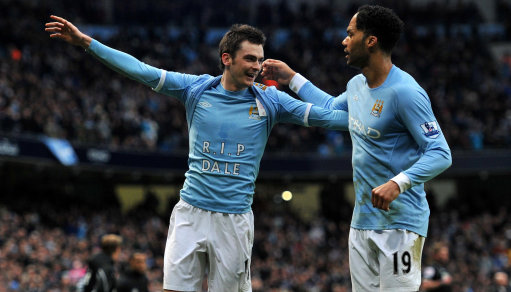 Liverpool will reportedly attempt an audacious move to sign Manchester City winger Adam Johnson this summer. The England international has made his displeasure known at his lack of first team opportunities at Eastlands and Anfield boss Kenny Dalglish this could aid a move to bring the talented wide man to the Merseyside club this summer.
Since his arrival at Man City from Middlesbrough on February 1st last year, Johnson has spent the majority of his time sitting on the club's bench biding his time and waiting for a chance to prove himself and has apparently had his run-ins with Mancini in the process, leading many to believe the Sunderland born winger may well be offloaded and Liverpool are hoping to complete a deal that would greatly improve their attacking options.
Johnson has started just eight Premier League matches this term and has made a further 15 appearances from the bench and as a result many believe he could be interested in a move away from Man City as his first team chances appear to have been dealt a blow with the arrival of David Silva, James Milner and others last summer.
Liverpool could well do with some natural wide options as using the likes of Maxi, Joe Cole, Milan Jovanovic and Dirk Kuyt has not provided a great deal of ammunition for the club's front men, whereas an expert crosser like Adam Johnson could have the desired effect and indeed could also add some more goals from the midfield area.
Manchester City purchased Johnson for a fee of £7m and would be looking for a fee in excess of that before they would entertain the notion of selling the former Newcastle United youth team player.