Anfield star commits future to the Merseyside club.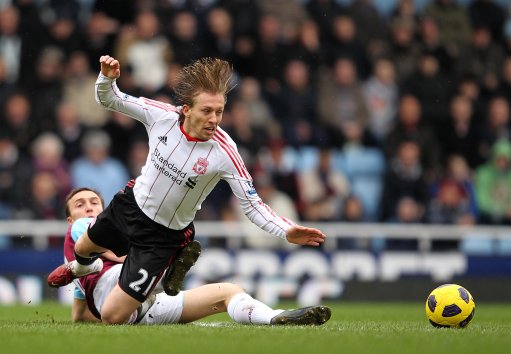 Liverpool midfielder Lucas Leiva has signed a new long-term contract to stay at Anfield the club have confirmed.
The 24-year-old, who joined the Reds in 2007, has won over fans this season with his battling displays in the middle of the park.
He has scored one goal this season but has completed the most tackles in the whole of the Premier League.
Director of football Damien Comolli says one of his first priorities was to sign Lucas on a new deal and shows the club is moving in the right direction.
"I am very, very pleased," he said to the club's website. "We have been talking for a few months now, ever since I arrived at the club.
"One of the first things I did after I arrived was to look at the contract situation and to see where Lucas was at.
"I knew we had to do something quickly because we couldn't afford to lose him and didn't want to lose him.
"If you look at his playing record he started 46 games last year in all competitions and this year it will be between 45 and 50. He is exactly what we want.
"He has the right mentality, quality and attitude.
"He understands what this club is all about and even though the discussions went on for quite a long time he always said to me 'I want to stay and we need to find a solution'.
"Considering his performances on the pitch with us and with Brazil, and his attitude around the place – a great professional, totally committed and dedicated – that's why we wanted him to stay.
"The celebration at Sunderland with the players after he'd had his baby shows that the other players were very happy for him and shows he is a team player.
"He could have gone to many clubs because he is highly rated around Europe, but he always said he wanted to play for Liverpool."
"What we did during the window showed ambition and what we have done with Lucas – and other players we are talking to – shows stability," he added.
"We want to keep the core of the players we have who are performing and performing well."