Old Trafford boss hails impact of Mexican and claims veteran predicted his success.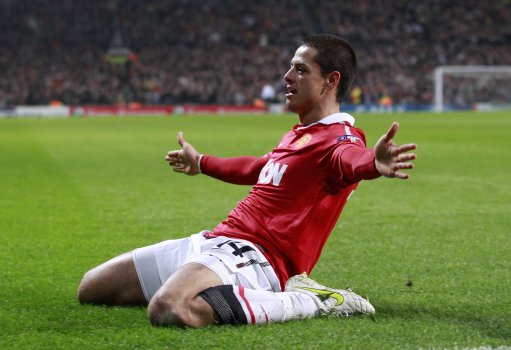 Manchester United manager Sir Alex Ferguson has praised striker Javier Hernandez's progress in his first season at the club.
The 22-year-old joined from Guadalajara Chivas last summer and has scored 16 times in 34 games this season.
He has wasted little time in becoming a fan favourite with Ferguson tipping 'Chicharito' to get even better as he matures.
The United boss is pleased with the Mexico international's work ethic and revealed Paul Scholes predicted Hernandez would be a success.
"When he first came in I think it was like every other young player coming from another continent to English football, it's not easy," Ferguson said to ESPN.
"So there was a settling-in period allowing him to develop physically. Bit-by-bit, he started to perform and score these important goals.
"You said 'well, his rest period is over, his breaking-in period is over' and he has been more regular and his performances have improved by it and he's just done absolutely fantastic."
"The boy comes in every morning at nine o'clock, does his gym work on his own, joins in with the players at ten and then, after training, he practices with some of the other players," he added.
"He has got the determination to succeed. He's got the fire needed to be a top player."
"I think we were very fortunate to get in quickly and we had great help from Chivas, who were fantastic with us. We have built a really good relationship with that club.
"We sort of resonate with most of the things that they do and their help in that situation was phenomenal. Not a bit of news got out during the negotiations with the deal."
"I remember Paul Scholes saying 'boss, he'll score 25 goals'. "I said, 'do you think so'. He said 'yeah, he's got the touch'. So we had an expectation that he would score."