Upton Park striker makes ill-advised crack over Ghanaian, Polish and Albanian immigrants.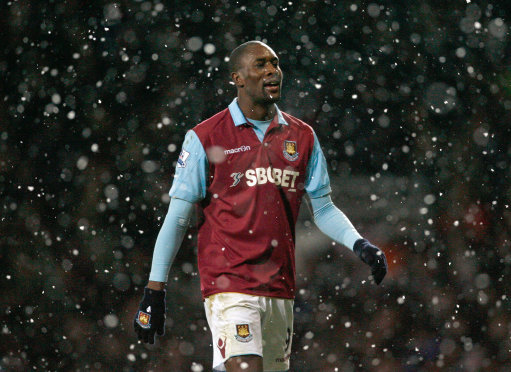 West Ham United striker Carlton Cole has been accused of racism over a joke he posted on social networking site Twitter.
The 27-year-old implied in his tweet that the Ghanaian football fans were to be deported after the game at Wembley by immigration officers.
The England international did not stop there and said the Football Association would organise friendlies with Poland and Albania to do the same thing.
Cole, who claimed the comments were just a joke, has endured a bad season so far for the Hammers only scoring five goals in 28 Premier League games.
"Immigration has surrounded the wembley premises! I knew it was a trap! Hahahaha," @Carlton9Cole tweeted.
"The only way to get out safely is to wear an england jersey and paint your face w/ the St. George's'flag!
"To my ghanian brothers dont take it so seriously, its just jokes! Youve played well! Done africa proud!
"Next friendly is gonna be Poland then Albania, government think their sly! I see it a mile away! Haha
"Why are there so many sensitive people out there! it was a joke & its not even racist!"
His comments are sure to outrage the 20,000 Ghana fans at Wembley who helped create an incredible atmosphere during the 1-1 draw with England.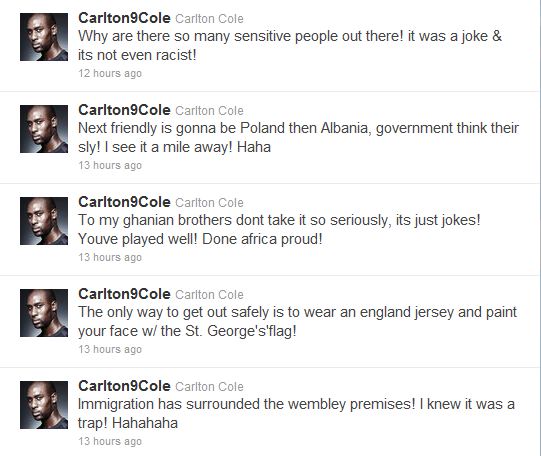 A number of people voiced their anger at Cole's comments on twitter also.
"three words: "you are racist"…u deserved what Millwall fans did to you in 2009…u didnt deserve any sympathy at all" @phrympung posted.
"stick to the footy carlton, you're not a comedian," @keval7 said.
"you really are an idiot with these last couple of msgs," @mnewman1982 tweeted.