Old Trafford club look set to land Vicente Calderón Stadium star.
West Ham v Manchester United live streaming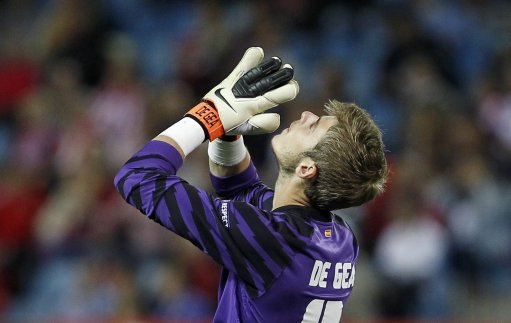 Manchester United have held talks with Atletico Madrid goalkeeper David de Gea according to the player's agent Hector Rincon.
United manager Sir Alex Ferguson wants a long-term replacement for retiring Edwin van der Sar and has settled on the 20-year-old.
The Spain U21 international broke into the first-team in 2009 and has been scouted by the Red Devil's goalkeeping coach Eric Steele.
Ferguson himself watched De Gea play Valencia last September.
Rincon revealed his player does have a release cause but Atletico may be persuaded to sell for cheaper.
He also says Wigan have made an attempt to sign him as well as a host of big European and English clubs.
"Well, we did have talks with Manchester United but, first of all, they always look for an agreement with the club," Rincon told Sport.co.uk.
"Anyway, most of the biggest European teams have shown interest in David de Gea."
"What I can tell you is that his release clause now is €20 million (£17.5million), but I have no idea if the club would sell him for less.
"Right now, the player has a contract with Atletico Madrid and if Manchester United or any other team want him they will have to reach an agreement or pay the whole release clause."
"Well, some time ago, before he became an important player in Atletico, Wigan made an offer, but the club rejected it," Rincon added.
"Recently, I don't want to say any names but all the big clubs in England and in Europe have asked about him."