Santos star claims he did not accuse Hampden Park fans at the Emirates and will not say sorry.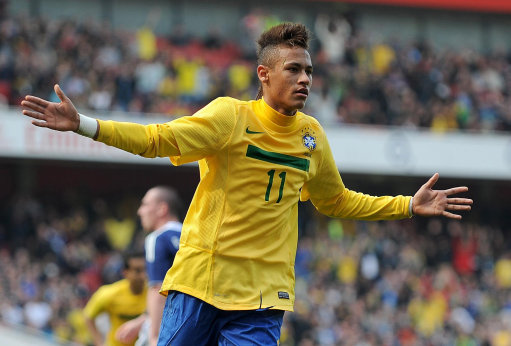 Brazil forward Neymar will not apologise to the Scottish Football Association for his racist accusations directed at Scotland fans during the friendly between the two.
The 19-year-old was the man of the match as he scored both goals in the 2-0 win.
But afterwards he implied he was the victim of racial taunts and that a banana was thrown at him from the Emirates crowd.
Although he did not specifically blame the Scottish fans, he certainly was not talking about the Brazilian supporters.
It turned out neither accusation was true as Scottish fans were jeering the player for over-reacting an injury and a German student threw the banana.
SFA chief executive Stewart Regan wrote to the Brazilian football confederation (CBF) to request an apology from them or the player for the Tartan Army.
But Neymar will not retract his accusations because he did not name the Scotland fans as the cause of the tension.
He even turns the tables and says the players need an apology for putting up with the abuse that they have to deal with.
"I was surprised by a letter from the SFA, demanding an apology from me or from the CBF regarding the incident involving a banana thrown toward the field," Neymar wrote in a statement.
"Stewart Regan says that the 'accusations' made after the match cast doubt on the reputation of 'good-humoured and respectful' Scottish fans."
"At no time, did I accuse any person or any group of supporters, of whatever nationality, of having committed such an act.
"All the interviews I gave at the end of the match, in Portuguese, are available for consultation with media companies that covered the friendly.
"Yes, I did lament the fact, condemn any and all prejudice, but I repeat, at no time did I accuse anybody. So I do not understand why I have to retract what I said.
"The requirement from the Scottish seems somewhat ironic, since, if there has been prejudice, it is us, the players, who should 'require' a formal apology."