Stamford Bridge veteran is glad of the rest and accepts competition is natural.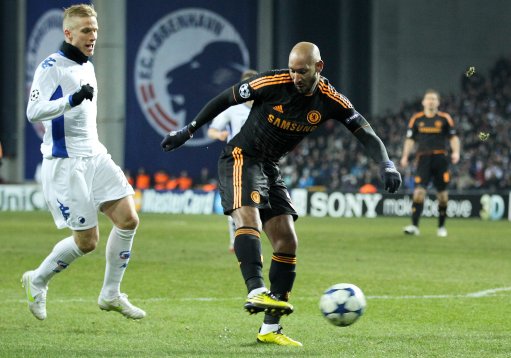 Chelsea striker Nicolas Anelka confessed he is happy to be used in a rotation policy and is glad to have the occasional rest.
The 32-year-old, along with Didier Drogba, Fernando Torres and Salomon Kalou, are constantly swapped around by manager Carlo Ancelotti.
The Blues have a tough run-in of fixtures and will play four games in 11 days, including both legs of a Champions League quarter-final against Manchester United.
But the former French international says the fixtures are part of the game and shows why a rotation policy is necessary.
"Personally I am fine," Anelka said to the club's website. "Sometimes to rest, even to watch your team-mates from the bench, is not too bad.
"It is part of the game and you try to be fresh when you come on the pitch. This is a big club and we have big players, so it's like this.
"We do our best on the pitch anyway and we know now, we have a different tactic with two up front.
"We are four, Drogba, Torres, Kalou and me, so we can swap and we know that even if we have a good game we may not play in the next game.
"It is frustrating when you are 20 years old, when you are 32, not anymore.
"Sometimes you are not happy because you want to play, but you have to understand it's part of the game and we have big players.
"It has been good to rest a little bit. The season is very long and we have a lot of games so it is always good to have a rest.
"It is going to be tough," he added. "I don't know why they put two or three games in March and then eight in April, but the schedule is like this and we just have to do it.
"We have a lot of games but we have a lot of players and we have a strong squad, so we can rotate and it's good.
"I have played for a long time now, and you get used to being away.
"You know sometimes you are busier than others, April will be like this, we enjoyed a quiet March at home but now we have to start again to be focused and do our best."