Shocking!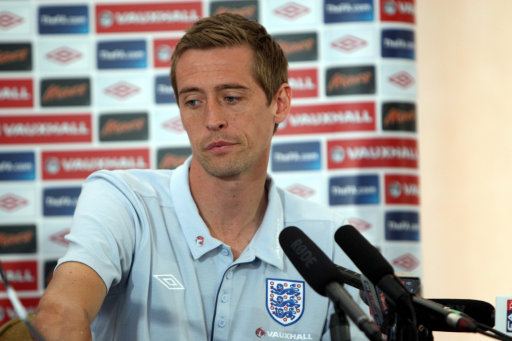 England and Tottenham forward Peter Crouch is today embroiled in a cross dressing drama that threatens to put further weight on his already strained relationship with fiancée Abby Clancy. Last night the lanky White Hart Lane striker was staying at a plush Central London hotel when staff were left perplexed by a late night visitor to his room.
Some hours after the giant footballer checked into his suite the staff at the trendy La Fir Polo hotel an extremely tall female arrived and asked for a spare key to Crouch's room. The concierge on duty last night admitted being 'deeply confused' by the manner in which the 'lady' was dressed. She appeared to be wearing a high quality designer made knee length dress that was clearly ill fitting on her elongated frame. Her bring red shoes also seemed far too small and clearly walking was a struggle but perhaps most shocking was her bright blonde wig that was so large as to obscure the view of her face, which turned out to be a fairly poorly thought out diguise.
At first they assumed that the lady visitor was an escort but on closer inspection they realised that the 6ft 6in female was in fact Peter Crouch dressed, poorly, as a woman. When pressed on the subject he at first put on a shrill lady-like voice and proclaimed "I am not Peter, my name is Petra" before walking speedily onwards to his eighth floor suite.
Crouch has been in a fair bit of bother with the media in recent months after being caught in compromising positions with prostitute Monica Mint and more recently in a reportedly innocent liaison with a air hostess, news that he has not been caught with another woman may at least come as a pleasant surprise for fiancée Abigail Clancy, who recently gave birth to the couple's first child earlier this month.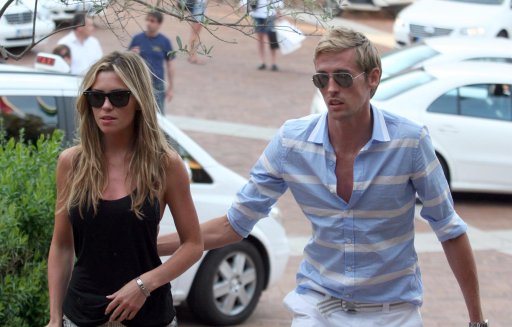 News of the incident filtered through to the press early this morning and when pressed on the matter Crouch stated various reasons for the bizarre behaviour the night before, ranging from stating it was part of an 'inside joke' to the reasoning that he had dressed in a dress and high heels to help retain his anonymity.
A media throng greeted Crouch as he attempted to leave the hotel this morning and it was clear that his penchant for cross dressing was set to be front page news, although the Macclesfield born striker is now reportedly consulting with lawyers in an attempt to prevent reports of the incident from being made public.
Team-mates and supporters alike are sure to poke fun at the White Hart Lane striker who appears to have more than his fair share of brushes with the tabloids and the 30 year old striker has now sought a high court injunction to prevent video footage of the incident and perhaps it is better if the human race was spared the frightening horror of witnessing such a sight.
However CaughtOffside has been presented with mobile phone footage of the incident which has to be seen to be believed. CLICK HERE to view the grainy recording.